Babergh and Mid Suffolk councils halt merger plans due to review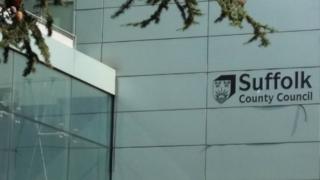 Two district councils have put the brakes on plans to merge due to "new willingness" to consider a unitary authority for Suffolk.
Suffolk County Council has asked think-tank ResPublica to review the county's local government structure.
It could see proposals for a unitary authority put back on the table.
Babergh and Mid Suffolk councils, which had planned to become one council by 2020, said it "was not the right time to actively pursue" the merger.
But they have called for the ResPublica work to "immediately stop".
Instead, they want a joint review, involving the county council and wider public sector.
The two councils said both leaders would "support some form of unitary arrangements for Suffolk", which could mean one council for the whole of Suffolk, with no district councils.
'Other options'
The ResPublica review was commissioned because the county council wanted to consider ways to "unlock more local control" and give "better delivery" of services.
The new review will not only look at the option for a unitary authority, but also retaining the current two-tier system of county and district councils, and devolution, the county council said.
Nick Gowrley, leader of Mid Suffolk District Council, which already shares many services with Babergh, said: "It would not be sensible for us to start the process of a merger given the county council's new willingness to consider other options."
There had been tensions over Babergh and Mid Suffolk's merger plans with former Babergh leader Jennie Jenkins stepping down in December.
The two councils moved from their separate headquarters in Hadleigh and Needham Market into Suffolk County Council's Endeavour House in Ipswich last year.
ResPublica is expected to report on its findings in the autumn.
The government rejected a previous push for a unitary authority in 2010.