Ipswich vicar's wife finds 'World War Two hand grenade'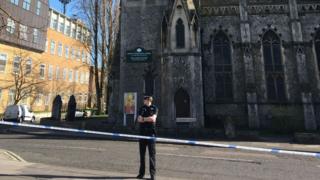 A suspected World War Two hand grenade has been found by a vicar's wife.
Suffolk Police was called to Portman Road in Ipswich at about 15:30 BST after the device was unearthed in a garden.
Officers set up a 50m (164ft) cordon in the area for a short time, which the force said was lifted an hour later on advice from the bomb disposal squad.
The Reverend Nick Atkins said it was "quite surprise" when it was dug up with a garden fork.
The vicar, who serves at St Matthew's Church, said they were doing some "after Easter holiday gardening and weeding" in the vicarage grounds when his wife, Terry, found it.
St Matthew's Church, across the road, and the Fletcher Centre, which is in the vicarage grounds, were evacuated, he said.
"It was all a bit of a shock and out of the blue," said Mr Atkins.
He said he was told by the bomb disposal squad it was a hand grenade and it had been taken away to be made safe.
"Sometimes you think you're making a mountain out of molehill, but I'm glad I rang the police," he said.
"I'm relieved it's been made safe."
The police cordon took in the nearby Ipswich International Church on London Road, at the top of Portman Road, which is about a quarter of a mile north of Ipswich Town's stadium.