Bobby Ferguson: Former Ipswich Town manager's life celebrated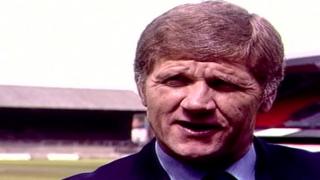 The life and achievements of a football manager who helped take Ipswich Town to national and European glory have been celebrated.
Bobby Ferguson was Sir Bobby Robson's right-hand man during the club's FA Cup and Uefa Cup wins in 1978 and 1981, before taking over as boss.
Players he coached, including George Burley and Terry Butcher, were among those who led tributes at his funeral in Nacton, near Ipswich.
Ferguson's son Keith described the service as a "really great tribute to him".
He said his father was a "very modest man" and "very respectful of the opportunities he was given in life".
Music played included Sting's Fields of Gold, Judy Garland's Somewhere Over the Rainbow and Frank Sinatra's My Way.
His son and his daughter Kim both reflected on Ferguson's life during the service, as did Burley and Butcher.
Mr Ferguson said the "great years" of 1978 and 1981 were "ingrained in the minds" of Ipswich Town supporters.
"It's almost as if it was yesterday to the people who were around and, for the people who weren't, it's a bit of a history that the club has.
"With that, we've received so many best wishes, because of his involvement and the way he went about things in terms of the tactics and thoroughness he applied to whatever he did," he said.
Before joining Ipswich's backroom staff in the 1970s, Ferguson played as a full-back for Newcastle, Derby and Cardiff.
He was put in charge at Portman Road in 1982 after Robson left Portman Road to become the England manager.
Ferguson stayed in charge until 1987 and later had coaching spells at Sunderland and Birmingham.