Daniel Poulter's 'dark moments' over misconduct probe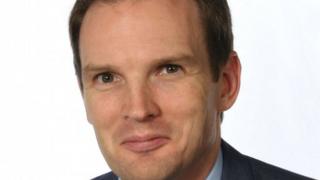 An MP said he faced "very dark moments" over allegations of inappropriate behaviour towards female colleagues.
Dr Daniel Poulter was cleared of the allegations by a Conservative Party investigation panel.
The claims were made to the Sunday Times in November, Mr Poulter has an ongoing libel case against the paper.
The MP for Central Suffolk and North Ipswich said the allegations had put a "tremendous toll" on his own mental health and wellbeing.
Dr Poulter was placed under investigation after fellow Conservative MP Andrew Bridgen alleged that women had complained about being treated inappropriately by him.
He was referred to an internal disciplinary committee which found there was "insufficient evidence to support the complaint made against him".
Dr Poulter said he was pleased to be cleared, although he had "no doubt" he would be.
"When anybody is accused of something they haven't done, it's a terrible thing to have happen," he said.
He added: "I had some very dark moments during the winter months."
Dr Poulter went on sick leave while the investigation was taking place but returned to the Commons in January to hear a bill reading.