Danny Boyle film: 7,400 people sign up for Gorleston 'concert'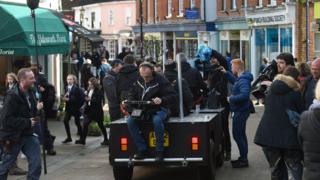 An appeal for thousands of unpaid extras to appear in a movie has already exceeded its target - within 24 hours.
Director Danny Boyle has recently been spotted shooting a Beatles-inspired film across Norfolk, Suffolk and Essex.
The as-yet untitled movie has been written by Richard Curtis, whose partner Emma Freud tweeted a request for 5,000 "unpaid concert spectators".
In a Twitter update, Ms Freud said 7,400 people had registered, adding: "After 24 hours we are full!"
The concert scene will be filmed on Gorleston beach in Norfolk on 27 June.
Ms Freud told BBC Radio Suffolk "we had to close the book".
She said: "It isn't the role of a supporting artist. We needed 5,000 people to watch the concert so we could film them.
"We thought it would be an incredibly tall order."
She said director Danny Boyle had refused to use digital technology to "fake a crowd".
"It's the best scene in the film and you'll be part of it," she said.
Screenwriter Curtis, who lives with Ms Freud in Walberswick, Suffolk, revealed the movie plot would follow a struggling musician's success after a "cosmic event".
"He suddenly wakes up to find he is the only person in the world to remember the music of The Beatles," he said.
"He has access to the greatest band catalogue in history.
"It's meant to be as funny as I can make it, as romantic as I can make and almost with a moral message," he added.
Suffolk singer Ed Sheeran, Cinderella star Lily James and EastEnders actor Himesh Patel are among those lined up to appear.
Crews have been spotted filming in Frinton-on-Sea, Halesworth, Lowestoft and Acle.
The movie is due for release in September 2019.