'Ambitious' ideas to make Ipswich 'future proof'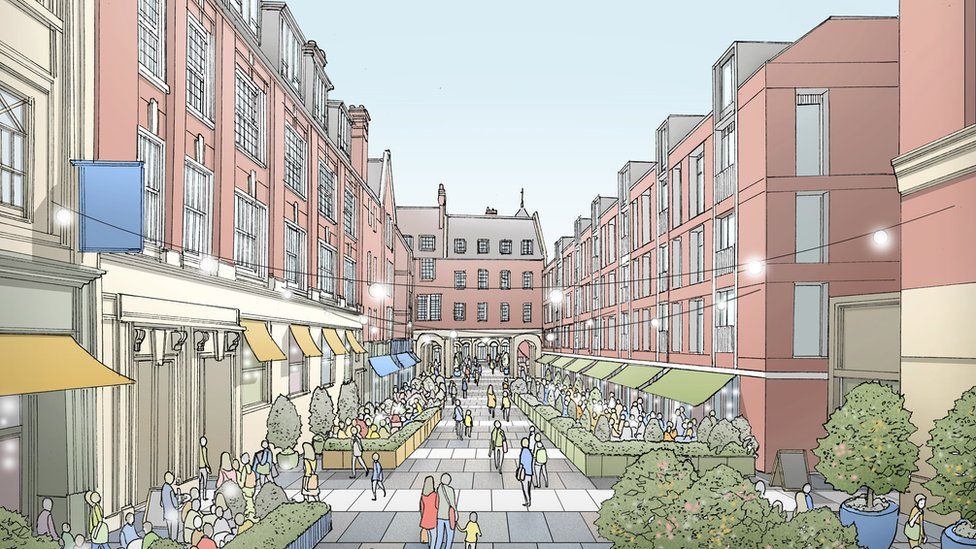 An "ambitious" list of 10 ideas to make Ipswich "future proof, dynamic and environmentally-friendly" has been put forward.
A team of architects and planners was asked to come up with ideas about how they think the vision for Suffolk's county town could look in the future.
Key ideas include regenerating Lloyds Avenue and creating a riverside park.
Ipswich Central, which runs the town centre, said it was "very excited" by the ideas.
It commissioned Allies and Morrison to undertake the "Ideas for Ipswich" project.
The firm proposed making Lloyds Avenue a "vibrant and energetic entrance to the town" with a particular focus on outdoor dining and establishing a new music venue.
Another idea was to create a new riverside park between Sir Bobby Robson Bridge and Stoke Bridge.
The idea would be to create "fresh, green spaces along the riverbanks from the train station to the waterfront".
Allies and Morrison said St Peter's Dock was a "key entry point to the waterfront and yet has long been abandoned".
It proposed pedestrianising the area to make the area around Stoke Bridge more attractive and creating an impressive entrance the the waterfront.
The firm also suggested improving the gyratory road system made up of Star Lane, Key Street and College Street, which it said was currently a "headache".
Terry Baxter, from Ipswich Central, said: "I am very excited by the ambitious suggestions that Allies and Morrison have put forward for Ipswich.
"Their 10 ideas match perfectly with the aims and aspirations that the board of Ipswich Central have for our town and our levy payers
"I am keen to see how these proposals can be reviewed, debated and developed."
Antony Rifkin, from Allies and Morrison, said Ipswich was "brimming with potential".
Related Internet Links
The BBC is not responsible for the content of external sites.