George Orwell's Southwold home gets fresh plaque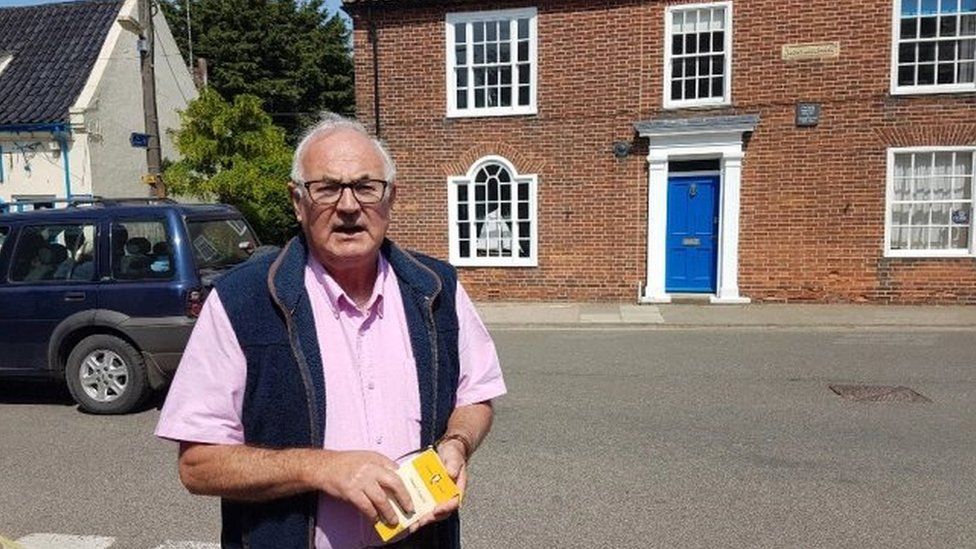 A fresh plaque has been put in place to maintain George Orwell's link with his former home.
Montague House in Southwold, Suffolk, was the family home of the author, whose real name was Eric Blair, from 1932-41.
Orwell's son said the town was an important part of his father's history.
Richard Blair said: "Southwold figures very highly in the whole world of George Orwell."
The Orwell Society said it submitted plans for the new sign with Waveney District Council with the blessing of the home's owner.
It said about 30 people attended the unveiling ceremony on Sunday.
Mr Blair's daughter-in-law Karen and Liz Kopp, the wife of the society's events secretary, cycled from Wallington in Hertfordshire, where Orwell and his first wife Eileen lived from 1936, to Southwold for the occasion.
Ann Kronbergs, society trustee, said it was "really delighted" to have the new plaque in place.
"It commemorates the writer's period in the house but also makes it very much clearer for the general public," she said.
"His memory and reputation in Southwold will start to grow."
Montague House on High Street was where Orwell, noted for works such as Nineteen Eighty-Four and Animal Farm, lived after returning from serving with the police in Burma (now known as Myanmar).
The Blairs moved to Suffolk and received advance copies of Orwell's travel writings Down and Out in Paris and London in time for Christmas 1932 , while his second novel A Clergyman's Daughter was completed there.
Mrs Kronbergs said some of Southwold's influence made it into his work.
Knype Hill is the fictional name for Southwold in A Clergyman's Daughter, while the character of Dorothy Hare is modelled on Brenda Salkeld, the gym mistress at St Felix School in the early 1930s.
Related Internet Links
The BBC is not responsible for the content of external sites.