Suffolk County Council's new leader's resurfacing pledge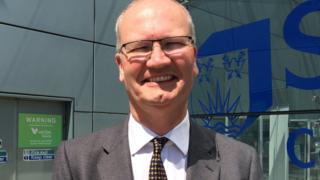 The new leader of Suffolk County Council has used his maiden speech as leader to say resurfacing 1,000 miles of the county's roads by 2021 will be his top priority.
A quarter of the 4,000-mile network will benefit, but the money must be paid back, Matthew Hicks said.
The pledge to spend the money was made earlier this year by his predecessor.
Mr Hicks ousted fellow Conservative Colin Noble after a secret ballot earlier this month.
He said other priorities would include education, housing and care for vulnerable adults and children.
Infrastructure issues and especially roads with potholes were high on Mr Hicks's list.
But he warned that while the pledge to spend £21m was "a significant and much welcomed investment, we must remember we have to borrow this money and any borrowing has to be paid back".
Collaboration with opposition
He also committed his administration to a new style of working collaboratively with "district and borough councils, with the leaders of the health sector and with business".
He confirmed he would not compromise his beliefs in low taxation, creating the economic climate to help business thrive, giving people the right to choose, encouraging people to reach their full potential and protecting vulnerable and frail residents.
"While we will work collaboratively with the opposition, we will not compromise on our beliefs," he said.
The Tories have 52 councillors on the 75-member local authority.
As leader of the largest opposition party - with 11 councillors - Labour's Sarah Adams welcomed Mr Hicks's approach.
"We will see the actions of the council as we go forward and will still hold them to account," she said.
"I genuinely believe it will be a new era of transparency and I live in hope and expectation.
"So we will see."