Teacher James Brooke killed in skydiving accident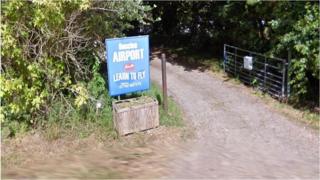 A 26-year-old skydiving instructor died while attempting a "high performance landing" at a Suffolk airfield.
James Brooke, who had made more than 900 descents, was fatally injured at Beccles on Saturday.
The British Parachute Association (BPA), which is investigating, said he had been filming a tandem descent.
Mr Brooke also worked as a special needs teacher in Bury St Edmunds and his school's headteacher said he was "adored" by children and parents.
He was taken to Norfolk and Norwich University Hospital by ambulance just before 10:00 BST where he died of his injuries.
'A huge loss'
Jan Hatchell, headteacher of Riverwalk School, said both Mr Brooke and his girlfriend were keen skydivers.
"James has been with us a year as an non-qualified teacher. He was fantastic, he was amazing with the children. The children and parents adored him," she said.
"He's not just a huge loss, but a huge loss to the school and to special education."
Jeff Montgomery, safety and technical officer with the BPA, said: "The parachutist was attempting a high-performance landing and was too low to the ground.
"He did not have sufficient altitude to flare his canopy which made him impact with the ground quite heavily.
"He was an experienced parachutist and had made more than 900 descents. We are still carrying out the investigation."