Ex-Lowestoft Tory mayor 'suspended over Islamophobic post'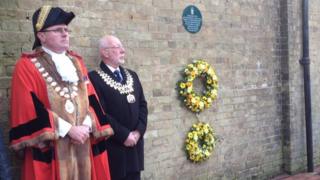 A former Conservative mayor has been suspended from the party over claims he made Islamophobic comments on Facebook.
The Conservative Party said it had suspended the membership of Waveney council deputy leader Stephen Ardley and had started an investigation.
After the election of Sadiq Khan, Mr Ardley is alleged to have said it was "unbelievable" a Muslim was elected London Mayor in a Christian country.
Mr Ardley, a former Lowestoft mayor, has yet to comment on the allegations.
The Conservative Party said: "Stephen Ardley has been suspended and an investigation is under way."
Mark Bee, Conservative leader of Waveney District Council, said: "The allegation was made to Brandon Lewis [MP for Great Yarmouth] regarding Stephen Ardley about comments alleged to have been made on social media two years ago.
"Because of the nature of the allegations Stephen has had to be suspended straightaway from the district council and the county council and from his cabinet positions."
He said he met with Mr Ardley, who is also a Suffolk County councilllor, to tell him the news on Friday afternoon.
Mr Bee said Mr Ardley was "disappointed" to not be involved with the council at this time but "recognised the need for it [the complaint] to be properly investigated".
A Muslim Council of Britain spokesman said: "It is no longer good enough to say that these cases are being investigated.
"There needs to be an independent inquiry and we continue to hope that the [Conservative] party will heed our call."