Bury St Edmunds and Dev Patel star in David Copperfield film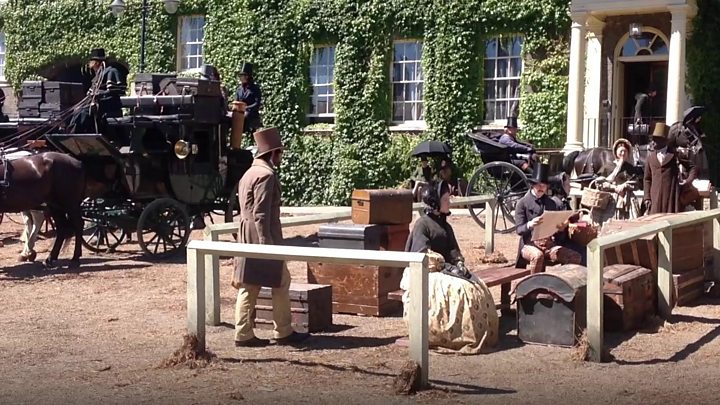 A market town was transformed into a Dickensian scene as filming for a new David Copperfield movie got under way.
The crew behind the British production, called The Personal History of David Copperfield, have been filming a scene with horses and carts in Bury St Edmunds, Suffolk.
It is based on the classic novel by Charles Dickens, and is being directed by Armando Iannucci.
Stars include Dev Patel, Peter Capaldi, Tilda Swinton and Hugh Laurie.
Producer Kevin Loader said the scene being filmed on the town's Angel Hill, opposite the cathedral and Abbey Gardens, is of the movie's protagonist "arriving in London" for the first time.
He said the film has been in the planning for several years, and "everyone in Bury has been so fantastically helpful".
"This film will go all over the world so everyone will see it and marvel at how gorgeous Bury looks," he said.
The team has also been filming on Athenaeum Lane and Chequers Square.
Filming is expected to continue inside the Theatre Royal on Wednesday and Thursday.
David Copperfield was Dickens's eighth novel and was published serially from 1849 to 1850, and in book form in 1850.
Its full title is The Personal History, Adventures, Experience and Observation of David Copperfield the Younger of Blunderstone Rookery.
Paul Whitehouse and Ben Wishaw are also in the cast.
Film4, the production company behind the movie, said it was due for cinematic release in 2019.
Danny Boyle and Richard Curtis have also been filming in East Anglia this year, including one scene of a concert at Gorleston, Norfolk, for their The Beatles-inspired movie.