Crop fires in Hengrave and Mildenhall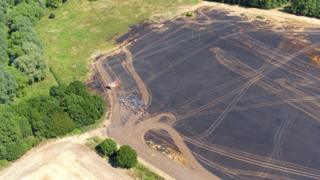 More than 100 firefighters have been tackling major crop fires in the west of Suffolk.
Suffolk Fire and Rescue sent almost 30 vehicles to Hengrave and Mildenhall.
It said the larger of the two fires was at Hengrave where crews worked quickly to surround it and worked with local farmers to stop it from spreading to further crops and nearby properties.
There have also been grass fires at Bramford near Ipswich, Farnham on the A12 and in Uggeshall in north Suffolk.
Station commander Dale Nunn said they were first called to Hengrave, just north of Bury St Edmunds, at 12:40 BST where about 24 acres (9.7 hectares) has been destroyed.
He said the wind was "quite strong", causing the fire to spread quickly.
"We had it surrounded within in an hour, which was a really good effort by the crews," he said.
It is not yet known what caused the fire.
The fire brigade was called to Mildenhall at about 12:45, Bramford and Farnham at 14:10, and Uggeshall at 14:20.