Elmswell church fully reopens after lead theft and repairs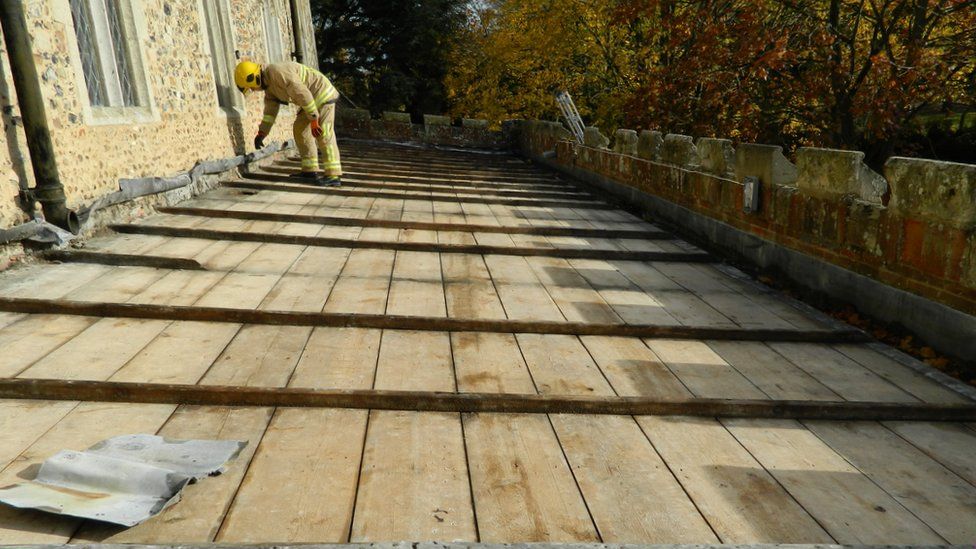 A church which was severely damaged by rain after thieves stripped its roof of lead has fully reopened.
Church services have been held in front of plastic sheeting and scaffolding while £35,000 worth of repair works, raised through fundraising, took place.
The lead roof is due to be replaced by a stainless steel version in September.
The raid took place on 11 November, after which rain got in and accelerated damage to the chancel ceiling, with plaster falling down on to pews.
External masonry was damaged but no-one was injured.
The plastering repair work began in March.
"The ceiling's done and we're really pleased to be able to use the full church again," said the Reverend Peter Goodridge.
He said the organ has been out of action since the repair work started and will have to be serviced to check for "dust damage".
The less-valuable stainless steel roof will cost about £40,000, and Mr Goodridge said Historic England would not oppose its use instead of the more traditional lead.
Related Internet Links
The BBC is not responsible for the content of external sites.