UKIP councillor murder trial: Wife 'too old to start again'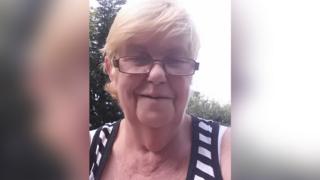 A woman whose ex-Royal Marine husband allegedly strangled her to death had stuck by him despite his affair with their son's partner, a court has heard.
Former UKIP councillor Stephen Searle, 64, denies the murder of his wife Anne Searle, 62.
She was found dead at their home in The Brickfields, Stowmarket on 30 December.
Her colleague Kelly Lawrence told the jury at Ipswich Crown Court that Mrs Searle felt she was "too old to start again".
Ms Lawrence, who worked with Mrs Searle at sushi producer Ichiban UK in Earl Stonham, told jurors that in August Mrs Searle had told her that her husband was having an affair, but "at the time she didn't know if it was a male or female that he was having an affair with".
"She said he had done it before but she wasn't sure what was going on at the time," she said.
Smashed phone
"I think in the end she confronted him about it," Ms Lawrence told the court.
Mrs Searle had smashed her husband's phone, Ms Lawrence said, after he admitted that the affair was with their son's partner Anastasia Pomiateeva.
Jurors heard that on another occasion Ms Lawrence noticed bruising on Mrs Searle's arms, and Mrs Searle said it was caused by her husband.
"She had called the police but wasn't going to press charges against him," she said, adding that Mrs Searle told her "she had been married for so long that she was too old to start again. She wanted to make it work."
The couple had been married for 45 years and they had three sons.
The trial continues.