Former Ipswich mayor's 'relief' at receiving UK citizenship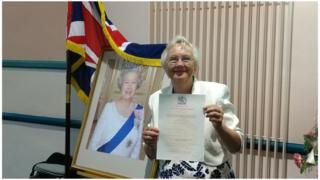 A former Ipswich mayor has received her UK citizenship certificate following a struggle with the Home Office.
Inga Lockington, 66, moved to the UK from Denmark in 1979 when she married her husband Tim.
She was initially declined dual citizenship, after applying ahead of the UK leaving the European Union, but won an appeal in May.
The Home Office apologised for the initial refusal.
Mrs Lockington, who lives in Ipswich and served as the town's mayor in 2007, said it had been "lovely" to receive the certificate at Suffolk Register Office, and it had been "a great relief to end the saga".
She said: "It was a great ceremony.
"Now I can relax and hopefully there is nothing more down the road as long as I do what I promised to do today, which is be a good girl.
"I don't have a problem with swearing allegiance to this country because that is what I have done all the time I have lived here."
Mrs Lockington currently serves on Suffolk County Council and Ipswich Borough Council.
She said her Danish passport had been stamped when she first arrived in the country with the words "leave to enter the United Kingdom for an indefinite period".
The Home Office said the case was initially decided based on the lack of a Permanent Residence card accompanying her application.
But it became clear upon review that her settled status since 1979 had not been correctly evaluated.