Demon dog Black Shuck celebrated in graphic novel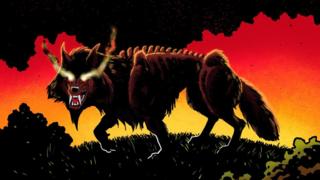 The demon dog of East Anglia is set to feature in a new graphic novel.
Mark Allard-Will is writing the book about Black Shuck - who is said to have terrorised churchgoers in Bungay and Blythburgh, Suffolk, in 1577.
The legend has been celebrated by rock band The Darkness with their song Black Shuck and inspired Sherlock Holmes novelist Sir Arthur Conan Doyle to create the Hound of the Baskervilles.
Allard-Will, who was born in Suffolk, has launched a crowdfunding campaign in a bid to fund the book The Burning Black: Legend of Black Shuck.
The East Anglian legend recounts how on 4 August 1577, during a dry lightning storm, Black Shuck broke down the doors of Bungay's St Mary's Church, resulting in the deaths of four worshippers, and then vanished.
The animal then reappeared in Blythburgh, where what are said to be Shuck's claw marks can still be seen, burned in to the surface of the doors to the Holy Trinity Church.
Allard-Will, who is working with artist Ryan Howe, told the BBC: "What I'm doing is something that I feel is going to be special for history buffs, folklore fans and just Suffolk folk in general that want an entertaining read.
"I'm not just giving the audience a recount of events of that night, instead I'm giving readers my idea of what a back story could possibly be for Black Shuck and then extending that out in a very slightly dramatised version of the events.
"So I really am giving readers a fully fleshed out three-act story."
He said the hardest part of writing the book was making sure his research into clothing, housing, technology and settlement types of both the Dark Ages and Tudor era was as accurate as possible.
"Because the story is in a visual medium, there's no hiding research errors, it will show if I've failed to be thorough," he said.
Allard-Will, who previously wrote the Arkade graphic novel, was born and raised in Suffolk until he was 26 when he left to live in Canada.
He said if everything went to plan the book could be published in April 2019.
He is appearing at comic convention Suffolk Super Con, which is taking place at The Apex in Bury St Edmunds on Saturday.