Averil Hart: Anorexia death 'prompts further probe'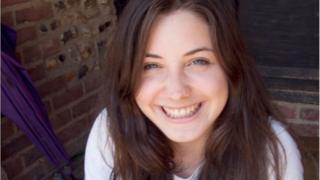 The father of a student who died of anorexia has said others may have died in similar circumstances.
Averil Hart, 19, from Newton, Suffolk, died in December 2012 after her condition worsened while at university.
A report found her death could have been prevented and her father Nic said the Cambridgeshire coroner was looking into deaths "of a similar nature".
Cambridgeshire & Peterborough NHS Foundation Trust (CPFT) has apologised to Ms Hart's family.
Miss Hart became unwell after her A-levels and spent 10 months as an in-patient at Addenbrooke's Hospital, Cambridge.
She was discharged to study creative writing at the University of East Anglia in Norwich.
Ms Hart was found collapsed at the university in December 2012 and taken to the Norfolk and Norwich Hospital, but saw no specialist eating disorders clinician for three days, by which time her condition had deteriorated.
She was transferred to Addenbrooke's, but died three days later.
The CPFT was asked by the Parliamentary and Health Service Ombudsman, who wrote the report, to apologise in writing to Ms Hart's family for the "injustice they suffered as a result of the failings".
Mr Hart told Cambridgeshire County Council's health committee on Thursday her death had been "completely avoidable".
"The Cambridgeshire coroner has set an inquest date in September, and said there are several other deaths of a similar nature they will be looking at. We have a failure of a service here," he added.
'Extreme frailty'
The trust was ordered to pay her family £3,000 compensation and explain to them the lessons and actions taken.
Chief executive Tracy Dowling said the trust had "responded with seriousness to the findings, and has put the action plan in place with good rigour".
A "clear focus" will be put in place, she said, on the need for acute staff to recognise life-threateningly ill patients with anorexia, as well as "extreme frailty not usually seen in younger people".
The trust is to lead a regional seminar regarding safe and effective care for patients with severe anorexia in the autumn, focusing on how care is shared with GPs.
According to the Ombudsman's report, the service will also provide teaching and training to counselling services at the UEA and Anglia Ruskin universities, as well as consulting with college nursing staff and GPs.