Alton Water: Blue-green algae shut new aqua park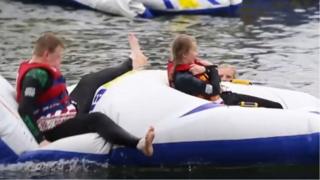 An aqua park at a Suffolk reservoir has been temporarily shut amid health fears over blue-green algae.
Aqua Park at Alton Water near Ipswich, with 72 inflatables, slides and obstacles, was opened on 7 July.
However, the algae have been detected in the water and blooms forming in hot weather release toxins that can cause skin irritation and sickness.
Managers apologised to those hoping to come to the park and said they could re-book or get a refund.
'Flushed out'
Prof Laurence Carvalho, from the Centre for Ecology and Hydrology, said blue-green algae had been a particular problem this summer.
"Not only has it been very warm but it has also been very dry, which means they have not been flushed out of water courses by rain," he said.
It is posing a particular risk to dogs who appear to be attracted by the smell, he added.
Blue-green algae are microscopic, but clump together in visible colonies up to a few millimetres in size that can rise to the surface and form thin wispy green blooms or thick, paint-like scums.
When it is ingested, it can cause damage to the liver or the nervous system in humans and animals.
People who have swallowed algal scum can suffer from skin rashes, eye irritation, vomiting, diarrhoea, fever and muscle and joint pain but there is no evidence of long-term effects or death among people in the UK.
It is not yet known how long the park will be closed.