Ipswich Upper Orwell Crossings compulsory purchase fears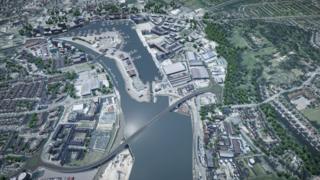 Homeowners living by the proposed route of the new Ipswich river crossings have been assured their properties are safe.
Suffolk County Council sent 3,000 letters last week, warning residents it was seeking powers to acquire land for the Upper Orwell Crossings.
But bosses insist there will be "no compulsory purchase orders issued to residential properties".
Conservative Ipswich Borough councillor Liz Harsant criticised the "disgraceful" handling of the issue.
People living on both sides of the Orwell received letters from the council asking them to fill in a questionnaire outlining the interest they have in their property.
Walter Gormer, who lives in Oulton Road and received one of them said: "People are very upset. They haven't been given enough details about what land they are going to use."
'Formal consultation'
But Paul West, cabinet member for Ipswich at the Conservative-run county council, reassured residents, saying he could "100%" guarantee that "nobody's home will be needed for the development".
"I can assure those who received the letter that there will be no compulsory purchase orders issued to residential properties," he said.
"I do understand the concerns that locals on both sides of the river have raised, but people will be invited to give their views during the formal consultation in the autumn."
Mr West, who denied that the letters would affect property prices in the area, said the Upper Orwell Crossings was being treated as a project of "national significance" and would be "good for Ipswich".
It is not yet clear if business, commercial or other properties will also be protected.