Alton Water: Ultrasonic technology may reduce algae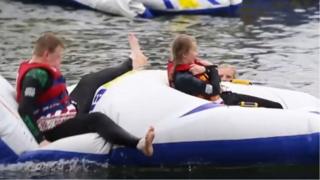 New technology could be brought in to reopen a water park full of inflatables at a Suffolk reservoir.
Aqua Park at Alton Water, near Ipswich, closed on Friday following health fears over blue-green algae in the water.
Ultrasonic technology may now be used to help reduce the levels of algae, which are thought to have "bloomed" because of the recent warm weather.
Anglian Water is testing the water twice a day, but the park, which opened on 7 July, could remain shut for weeks.
Blue-green algae releases toxins that can cause skin irritation and sickness - but they need sunlight in order to survive.
The ultrasonic technology works by zapping the algae and damaging their ability to float, meaning they sink to the bottom of the water and die.
Emma Staples from Anglian Water said Aqua Park had been "very proactive" by investing in the ultrasonic technology.
She added: "It's quite exploratory so we obviously want to make sure that it does do the job we need it to do before we can reopen the water.
"The main thing that normally works is a break in the weather, but obviously we're not expecting that at the moment so we're seeing what else we can do."
'Top priority'
Aqua Park, which is at the Stutton end of the reservoir, has been closed to the public as temporary precautionary measure.
Ms Staples added: "We know that people are looking forward to spending the day at Alton and we do want to make sure they can get out on the water as soon as possible but our top priority is making sure people are safe."
All of the watersports facilities at Alton Water remain closed, as well as the Aqua Park, which has 72 inflatables, slides and obstacles.
Managers apologised to those hoping to come to the park and said they could re-book or get a refund.