Dean Stansby murder: Four convicted of railway station killing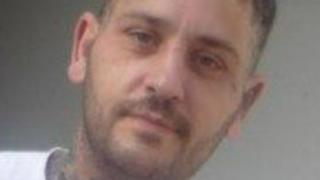 Four members of a drug gang have been convicted of murdering a man who they were concerned was going to rob them.
Dean Stansby, 41, from Trimley, near Felixstowe, died after being stabbed in the abdomen near Ipswich railway station on 8 February 2017.
Jason Ruby, 45 and Tecwyn Parker, 48, both of Ipswich, and Amiadul Islam, 25, and Daniel Kaganda, 24, from London, were convicted after a three-month trial at Ipswich Crown Court.
The men will be sentenced on Monday.
Ruby, of Risby Close, was also found guilty of conspiracy to supply heroin and crack cocaine and the verdicts were greeted with celebrations in the public gallery.
Mr Stansby had gone to Ipswich to buy drugs and contacted a supplier known as "AJ and Sky", who worked on a county lines model to bring drugs out of London, the Crown Prosecution Service said.
Parker had been sent to deal to Mr Stansby but returned to a flat where Ruby and Kaganda were, alleging he was concerned he would be robbed by the buyer.
After phone calls with one of the group's organisers Islam, the other three men went to where Mr Stansby was waiting and he was fatally stabbed on Ancaster Road.
The jury had been deliberating on the verdicts of Ruby; Parker, of Downside Close, Ipswich; Islam, of Caistor Park Road, West Ham in east London; and Kaganda, of The Grange, East Finchley, north London, since Thursday.
Judge Martyn Levett thanked the family of Mr Stansby and commended them for their behaviour through the trial.
Det Ch Insp Caroline Millar called the murder "an appalling crime motivated by revenge and drugs".