Drug driver jailed for killing two men in Newmarket crash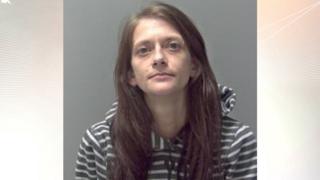 A driver who crashed into another car after taking drugs, killing two men, has been jailed for eight years.
Sadie Fuller, 32, admitted causing their deaths and seriously injuring a woman in the crash on 27 May on Exning Road in Newmarket, Suffolk.
Paul Gale, 43, the front seat passenger of Fuller's Volkswagen Golf, and Marius Giocas, 20, the driver of the other car, died at the scene.
The prosecution said she had been driving at "excessive speed".
Ipswich Crown Court heard she was "driving away from police, or at least thought she was".
The rear seat passenger of the Golf was taken to hospital with serious injuries after the crash, which happened at about 23:50 BST
Fuller, of Exning Road, Newmarket, had also admitted possessing heroin, driving without insurance and driving without a licence.
She pleaded not guilty to an offence of attempting to pervert the course of justice.
In addition to the prison sentence, she was banned from driving for nine years and will then need to take a test.