Soldier awarded over kebab shop stabbing in Ipswich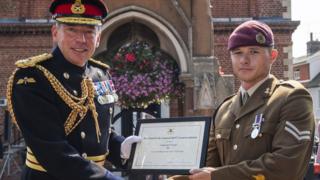 A soldier who saved the life of a stab victim after a night out has been presented with a top Army award.
A man was stabbed three times in the neck during a fight at a kebab shop in Ipswich in April last year.
Cpl Joe Lovell, 29, based at Woodbridge in Suffolk, said his "training took over" as he tried to stop the bleeding.
He received a Chief of the General Staff's Commendation with a citation that read: "His actions undoubtedly prevented loss of life."
Cpl Lovell, from Camden in north London, has served two tours of Afghanistan and has been in the Army for 10 years.
He was presented with the award during a service in Woodbridge after his regiment, the 23 Parachute Engineers, paraded through the town to celebrate its 15th anniversary.
He said: "I was heading back from a night out and saw a fight break out in front of me and a young man got stabbed in the neck.
"It was a stressful situation but my training took over and I just did what I could to stop his bleeding."
The attack happened in Dogs Head Street at 03:30 on 7 April 2017 and the victim, a man aged in his 20s, went on to make a full recovery.
Lt Col Simon Carvel, the commander at Rock barracks in Woodbridge, gave the award and said: "It just shows one example of how we support the local community.
"We are proud if we can help, whether it's by raising money, saving lives or just showing our gratitude for what Woodbridge does for us."