Dean Stansby murder: Three men jailed for life for Ipswich killing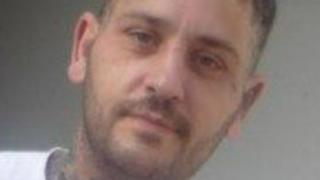 Three members of a drugs gang have been jailed for life for murdering a man they feared was going to rob them.
Tecwyn Parker, 48, and Jason Ruby, 45, both of Ipswich, and Daniel Kaganda, 24, from London, were convicted of killing Dean Stansby after a trial.
At Ipswich Crown Court, Parker was sentenced to life with a minimum of 22 years in prison, while Ruby and Kaganda will serve at least 18 years.
Mr Stansby was stabbed near Ipswich railway station in February 2017.
A fourth defendant, 25-year-old Amiadul Islam, from London, who was also convicted of murder, will be sentenced at a later date.
Ruby was also found guilty of conspiracy to supply heroin and crack cocaine, while Kaganda and Islam admitted the same charge prior to the trial.
The court heard previously how Mr Stansby, 41, from Trimley, near Felixstowe, had gone to Ipswich to buy drugs and contacted a "county lines" supply network known as "AJ & Sky".
Parker had been sent to deal to Mr Stansby but returned to a flat where Ruby and Kaganda were, alleging he was concerned he would be robbed by the buyer, jurors were told.
After a phone call to Islam, one of the group's organisers, the three other men went to meet Mr Stansby on Ancaster Road, where he was fatally stabbed in the abdomen.
After sentencing, Mr Stansby's younger brother Paul said the family was "satisfied justice has been served, but we are still mourning and living in anguish".
He described his brother as "a loveable rogue", adding "I would class him as a misfit, but he was such a diamond geezer".
Paul Stansby said he was setting up a charity, with police support and advice, called the Anti-Crime Foundation aimed at youngsters.
"I'm trying to get across that gang mentality and weapons are not necessary - you don't have to follow that to be able to get somewhere in life," he said.
'A planned ambush'
In a statement, father-of-five Mr Stansby's former partner Kim Hales said things had been "a living nightmare" since his murder.
She said: "No one has the right to take the life of a person and leave lives in disarray. Dean's at peace now but we will never be at peace again."
Judge Martyn Levett described the killing as having "all the hallmarks of a planned ambush".
Speaking outside court, Det Ch Insp Caroline Millar said: "This sends a very clear message to those who intend to peddle their drugs and spread their misery.
"County lines causes fear in the community, but if people provide us with information we will deal with it and catch them, and as today shows, hefty sentences will be given."