Crash fire engine crew helped by off-duty doctor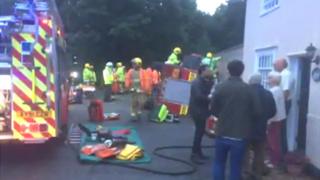 Three firefighters injured when their engine overturned were helped by an off-duty doctor from a nearby pub.
The crash on Thursday happened opposite The Crown in Stoke by Nayland, on the Essex/Suffolk border.
Eyewitness Brian Oakes said the doctor borrowed a spoon to administer morphine while waiting for paramedics to arrive.
Essex Fire and Rescue said one firefighter remained in hospital with a broken arm and two others had minor injuries so were allowed home.
A spokesman confirmed an investigation will get under way into the circumstances of the crash.
The engine was on its way to a road traffic accident and an eyewitness said it "skidded in the rain on a sharp turn".
Mr Oakes and his wife Una were in their house when Mrs Oakes heard "sirens and then this big almighty bang".
She looked outside and said "all I could see was the underside of the fire engine".
Mr Oakes said one of the men climbed out of the engine and he heard another say he was hanging from his seatbelt, while a third said he thought his arm was broken.
A doctor came out of the pub to help and "gave at least one of them morphine".
He said: "She borrowed a spoon off me to measure it and a paper and pad to write down what she'd given, so paramedics could take a note of what they'd had."
Mrs Oakes added the corner was "lethal" and they had previously helped a driver whose car had overturned into a ditch.