Three taken to hospital over holiday park 'chemical spillage'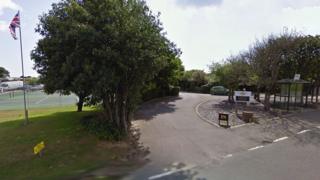 Three people have been taken to hospital after a "chemical spillage" at a holiday park in Suffolk, a fire service has said.
The workers at Broadland Sands Holiday Park in Corton, near Lowestoft, had to undergo checks after a spillage in a swimming pool area on Saturday.
No guests were affected, said resort owner Park Holidays UK.
A spokesman for the firm said the three employees were taken to hospital as a "precaution".
They have since been discharged.
"Park staff reported a small chemical spillage in the plant room of the swimming pool," said the spokesman.
Suffolk Fire and Rescue Service said it was called with reports of the chemical leak at 10:50 BST.
The company is to carry out an investigation into the matter, its spokesman added.