Alton Water: Aqua park will remain closed all summer after algae outbreak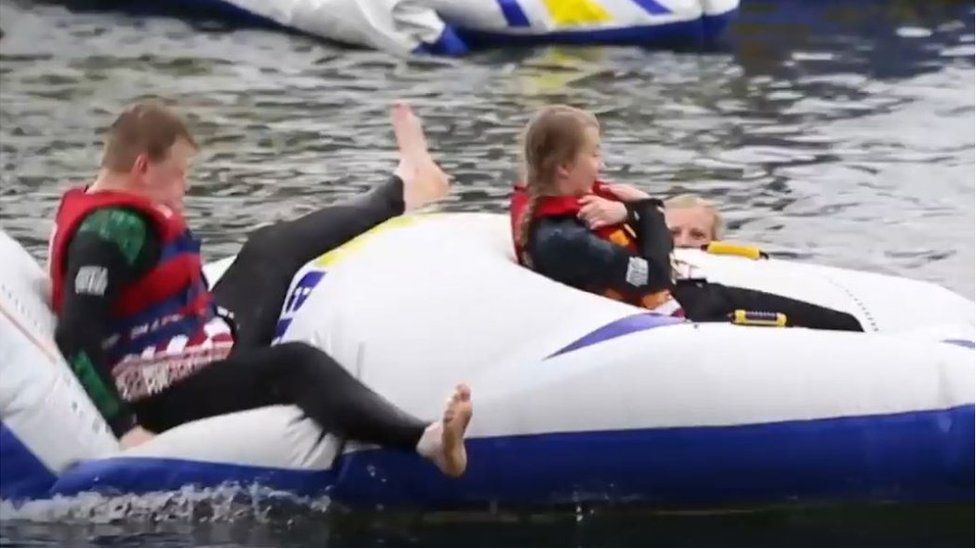 An aqua park at a Suffolk reservoir will remain closed for the rest of the summer after an outbreak of blue-green algae.
Aqua Park at Alton Water near Ipswich opened on 7 July.
But it closed later that month after the algae blooms were found forming in the hot weather, releasing toxins that can cause skin irritation and sickness.
Managers apologised, saying they had been unable to control the algae levels and future bookings will be refunded.
Aqua Park Suffolk's director Richard Drinkwater said despite its best efforts and investment in technological solutions, algae levels at Alton Water had not yet returned to safe levels.
"We agree with Anglian Water's decision to close Alton Water to the public," Mr Drinkwater said.
"However, despite investing with us in ultrasound technology, Anglian Water have been unable to control the algal bloom at Alton Water this season."
A spokeswoman for Anglian Water said algal blooms were difficult to prevent and control.
She said: "It was hoped the ultrasound technology would work by zapping the algae and damaging their ability to float, meaning that they sink to the bottom of the water away from the sunlight and die.
"The unsuccessful efforts with exploratory ultrasound technology brought in by Aquapark and Anglian Water has proven a challenge."
Blue-green algae are microscopic, but clump together in visible colonies up to a few millimetres in size that can rise to the surface and form thin wispy green blooms or thick, paint-like scums.
When it is ingested, it can cause damage to the liver or the nervous system in humans and animals.
The firm said it would like to return to run the aqua park next summer and would be seeking "assurance from Anglian Water that it is possible to control these algal blooms".
Related Internet Links
The BBC is not responsible for the content of external sites.