Corrie Mckeague: Mother claims missing airman 'may have dodged CCTV'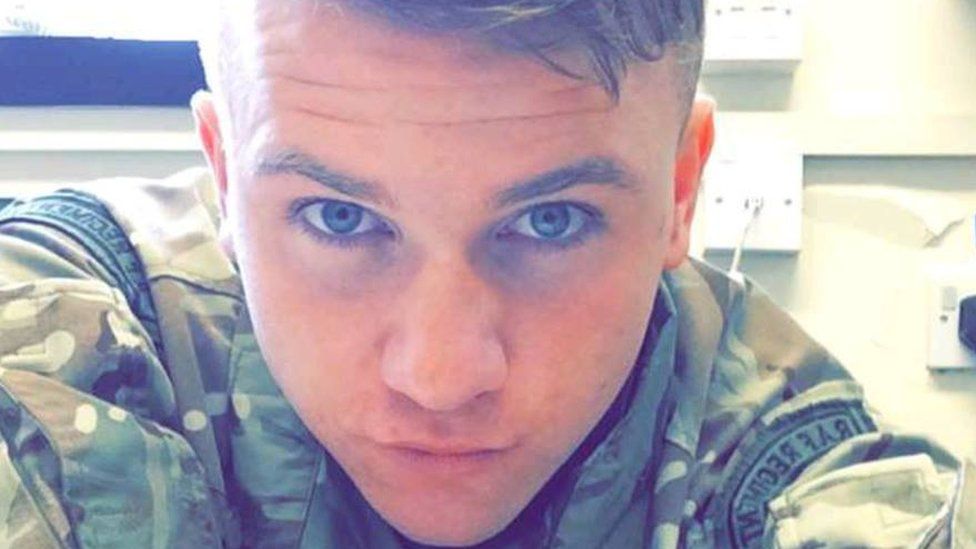 The mother of a missing airman believed buried in landfill claims he could have walked away from the scene of his last sighting without being spotted by CCTV.
Corrie Mckeague disappeared in September 2016 after CCTV showed him entering a bin bay in Bury St Edmunds.
Police maintain he was taken to a landfill site in an "unusual" 116kg load on a lorry.
Nicola Urquhart claims she has seen new data that loads were often over 100kg and has challenged the police's theory.
Officers spent 20 weeks trawling through a landfill near Cambridge where the bins from Bury St Edmunds were later tipped but failed to find any remains.
Mrs Urquhart claimed new information revealed at a recent meeting with Suffolk Police has led her to believe her son could have left the bin bay alive without being recorded on CCTV.
Last month, Corrie's father Martin Mckeague said his son was "somewhere in the Suffolk waste disposal system", adding: "Corrie is no longer missing... after looking at all of the facts and evidence we now know what happened."
At the time Mrs Urquhart insisted she had "not given up" the search for her son, who is originally from Dunfermline in Fife.
After a meeting last week she has called for a new detailed search along a route she says her son took to Bury St Edmunds to avoid traffic.
A Suffolk Police spokesman said: "Whilst we have always remained open-minded, we continue to stand by what we have previously stated.
"The most likely scenario is that Corrie McKeague unfortunately went into the bin which was emptied into the Biffa lorry and consequently ended up in the waste process.
"We have come to this conclusion based on all of the evidence we have available to us, and not just the weight of the bin.
"There is nothing to suggest the 116kg the bin weighed on the night Corrie was last seen is inaccurate."
Related Internet Links
The BBC is not responsible for the content of external sites.