Breast cancer surgeon Dr Liz O'Riordan unveils statue of herself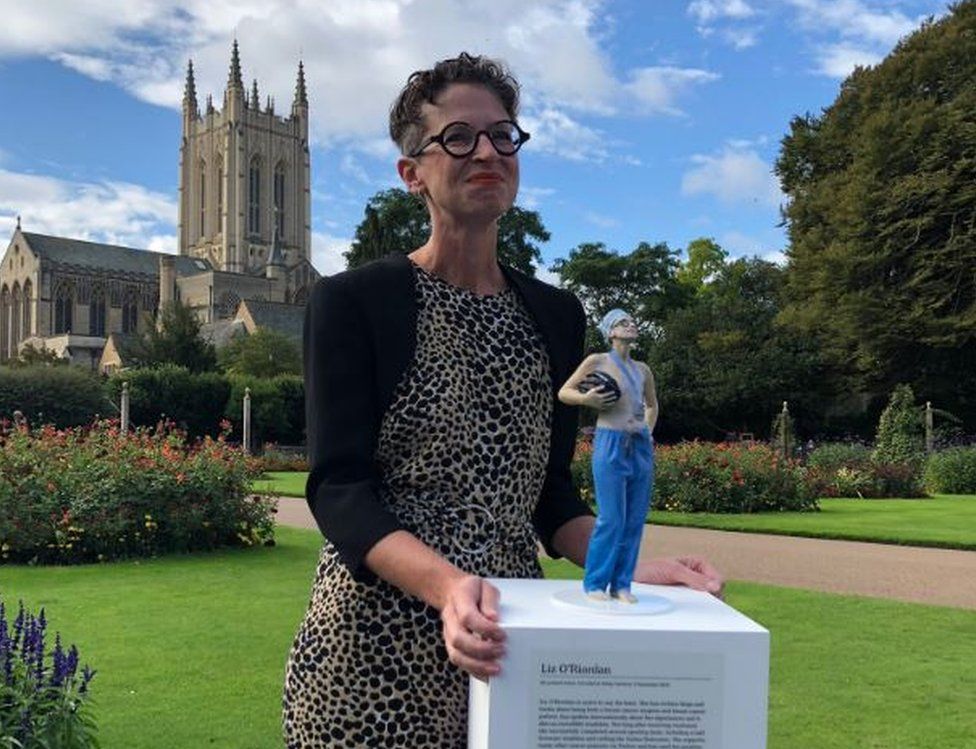 A "topless" statue has been unveiled of an "brave and bold" doctor, marking the end of her treatment for breast cancer.
Dr Liz O'Riordan, 43, a breast cancer surgeon at Ipswich Hospital, has twice been diagnosed with the condition.
The statue, revealed in Bury St Edmunds, Suffolk, depicts her after her mastectomy, with a cycling helmet and triathlon medal covering her chest.
She said: "I was a bit scared of being topless, but I'm really proud of showing the world my scars."
Dr O'Riordan was diagnosed with cancer in 2015 and 2018, and went to her final radiotherapy session at Addenbrooke's Hospital in Cambridge dressed as superhero Mrs Incredible.
She has had the all-clear and said she has had one breast "flattened" and, on Friday as the final part of her treatment, had her ovaries removed at the West Suffolk Hospital, Bury St Edmunds.
Two days later, she was at town's Abbey Gardens to show off the statue, which has now been put back in storage.
She said: "Cancer is not a dirty secret, but we shouldn't be ashamed of our scars and I want to share the bad and the good - it's who we are."
The statue is one of 25 created by Non Zero One - a company which aimed to plug the gap in what it said was a lack of statues in the UK of women who are not royal, mythical or dead.
Cat Harrison, lead artist, said "bold and brave" Dr O'Riordan was selected from hundreds of nominations for her "complete honesty and cracking sense of humour".
"I have no doubt Liz will inspire other women to not be ashamed of breast cancer and the outcomes and emotional difficulties that can come with it," she said.
Dr O'Riordan said it had yet to be decided what to do with the statue permanently, although it could go on tour.
Related Internet Links
The BBC is not responsible for the content of external sites.