Members-only 'cannabis lounge' opens in Ipswich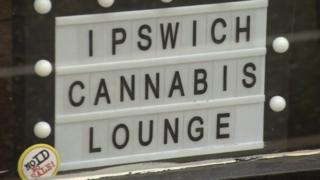 A members-only "cannabis lounge" has opened in Ipswich because of "growing demand" for the plant's medicinal qualities.
The venue, on Eagle Street, provides legal cannabis-based products and invites users "to discuss their needs in a safe environment".
Co-owner Darryl Noe - who also runs a cannabis club in the town - says use of the plant is "commonplace".
A police spokesman has said the force will "monitor the situation".
Mr Noe described the lounge as a "new concept" - where members can use cannabis recreationally - and the money generated from the shop would fund the business's "medicinal side".
He said the venue - which has almost 200 members - focuses on the legal cannabidiol-based (CBD) drug, which he says does not get users high - or dependent.
However, research by the NHS shows that 10% of regular cannabis users do become dependent on it, with the risk of addiction higher if users begin in their teens - or use it daily.
There are more than 70 cannabis clubs across the UK.
Mr Noe said lounge members will be able to vape CBD-based cannabis, but not smoke it - or buy the plant inside.
Cannabis was reclassified from a class C to a class B drug in January 2009 - although its legality is currently under governmental review.
The use of medicinal cannabis oil made the headlines in June when a 12-year-old boy with epilepsy received an emergency licence for the drug.
"Cannabis use is commonplace and not just for hippy stoners like me," Mr Noe said.
"Unfortunately, the streets are the only place you can get cannabis at the moment, [which is] not the safest of options.
"We can point people in the right direction for advice and research. We are trying to help people who use cannabis as a medicine and at the moment there's no other help out there for them."
A Suffolk Police spokeswoman confirmed that an officer had visited the business "to discuss the business concept with its proprietors".
She added: "We will continue to monitor the situation."