Mystery over dead hares in Suffolk and Norfolk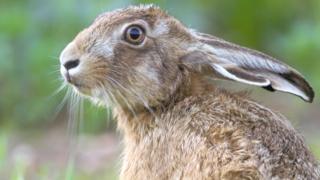 The mysterious deaths of hares have sparked concern about the future of the species in the East of England.
Suffolk and Norfolk Wildlife Trusts are working with the University of East Anglia (UEA) to look into a recent batch of deaths.
Dr Diana Bell said myxomatosis and haemorrhagic diseases were possible causes and is asking people to report sightings of the dead animals.
She said losing a large number of hares would be "disastrous" for the region.
The People's Trust for Endangered Species estimates there are around 817,500 left in the UK.
Suffolk Wildlife Trust said the number nationally had declined by 80% over the past 100 years, with the animals hunted year-round and also facing threat from illegal hare coursing.
Over the past month, landowners and farmers have reported several sightings of sick or dead hares - many of which were around Bungay.
In one case, six hares were found dead in a field.
Dr Bell has asked people to get in touch if they find a dead hare in "unusual circumstances".
"We need to know what is happening," she said. "East Anglia is a really important stronghold for brown hares so it would be disastrous if we lost them.
"Hares are really up against it so getting good images of the bodies, along with their exact location, is crucial for us to rule out or identify possible diseases.
"Until we get more cases, we can't call it."
Dr Bell said that hares, which are larger than rabbits and have longer hind legs, were at risk from RHDV2, a haemorrhagic disease that "got into the wild big-time in the last three years".
But she also said myxomatosis had been "particularly virulent" in rabbits this autumn and it was possible the highly-contagious disease could "make the jump to hares".
"Myxomatosis in hares is rare but earlier this year there was a huge die-off in Spain," she said. "That was the first time it had happened.
"We're losing both our rabbits and our hares but if we lose our hares, we're going to be in trouble."
Hare facts
A hare's fur coat will change colour in winter
Some European hares can live for up to 12 years
Hares can run at speeds of up to 45mph and are excellent swimmers
They are thought to have been introduced to the UK by the Romans and are not a protected species
For rabbits, myxomatosis is almost always fatal. The viral disease, which is spread by blood-sucking insects such as fleas and mosquitoes, causes breathing problems, bulging eyes and swelling.
Ben McFarland, head of conservation at Suffolk Wildlife Trust, said: "The reports of hare deaths are obviously of great concern, especially considering the importance of the populations in this region.
"We are monitoring all sites closely and asking anyone who sees an animal that is dead or unwell to get in touch."