Ipswich school reports 'pupil aged 30' to Home Office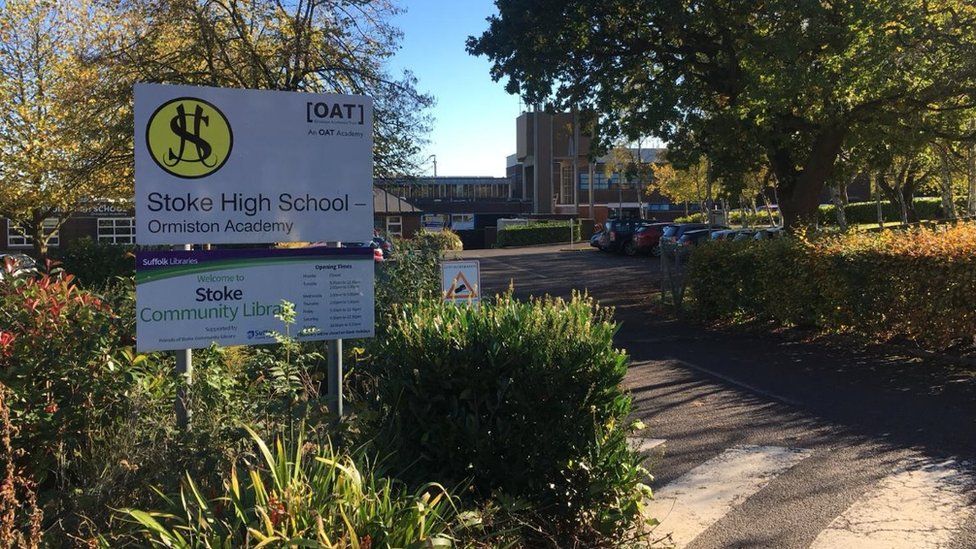 A secondary school pupil is being investigated after parents and classmates claimed he was as old as 30.
It is thought he is an asylum seeker who joined Stoke High School, Ipswich, as a new pupil at the start of term.
The school said it had contacted the Home Office in relation to the concerns but it was not prepared to comment further.
Another pupil shared an image on social media with the message: "How's there a 30-year-old man in our maths class?"
But some classmates from the school said they did not think he was as old as 30 and suggested he had been a victim of bullying.
The Home Office said it does not routinely comment on individual cases.
In a statement the school said: "This is a matter for the Home Office. They are looking into this after we contacted them.
"We do not comment on individual cases but we have followed government and local authority policies and guidance, as we do for any asylum admissions matter."
It added the pupil "was not attending the school at this time".
The applicant has left their home country and are unable to go back because they fear persecution
The applicant's home state is unable to guarantee their safety
Lewis Forte, whose step-daughter is a pupil at Stoke High School, said he had been totally dissatisfied with the school's response.
He added: "I went to the school to raise concerns about it and the teacher tried to shut me down by saying all his documents were present and correct which they probably were."
Mr Forte said he believed the pupil in question had been at the school since the start of the term.
"If he is a child then I am very sorry but I had a few children in my class who looked old for their age but this is something else," he added.
Another parent warned others on social media: "I suggest if anyone's children are in the same classes as this guy then keep them off school until this has been investigated."
Victoria Newby, who has a child at the school, said: "My girls will not be attending until I know for sure he's been removed."
But mother-of-three Victoria Thorpe said she would not be taking her 11-year-old son out of the school.
She said: "It's not the school's fault, they are in a hard position.
"I'm not going to take my son out because it would affect his education and because he's in Year 7 he's not going to be around him too much."
Ipswich MP Sandy Martin said parents should not be taking their children out of the school, as they are not at risk.
"Stoke High School is, as far as I am concerned, an extremely safe environment for their children," the Labour MP said.
"It's not the school's fault, it's the Home Office's. They are responsible for making sure that people are sent to appropriate places."
Related Internet Links
The BBC is not responsible for the content of external sites.