Ipswich Spill Festival music event disrupted by protester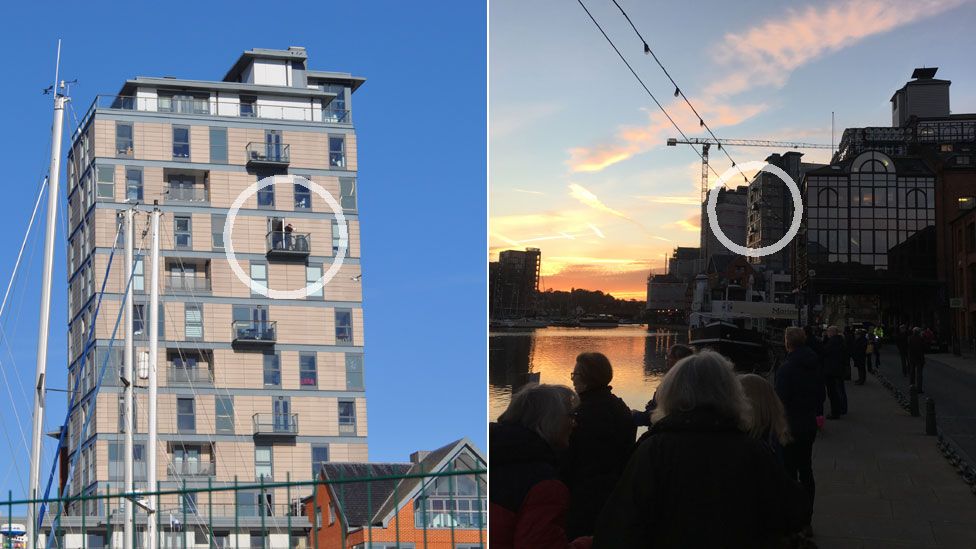 The organisers of a festival are "enraged" by the actions of a protester who is disrupting a daily outdoor music event with a megaphone and a siren.
Clarion Call commemorates the centenary of the end of World War One and is played out using 488 loudspeakers across Ipswich's waterfront.
The protester is calling it a "pagan" event and has been making his views known during the performances.
Artistic director Robert Pacitti said it was "enraging and disrespectful".
The protester has been speaking through a megaphone from the balcony of a flat on the waterfront. He says Clarion Call, part of the two-week Spill Festival, is a "pagan incantation".
The "sonic artwork" uses female voices, including Beth Gibbons of Portishead, Elizabeth Frazer of the Cocteau Twins, and a military wives choir. It happens twice a day and also uses a helicopter to relay the audio.
"Your noise is not welcome in my home," the protester said during Friday's performance.
But people trying to listen to the music have expressed annoyance at his actions. Angela Burroughs said "he's completely missed the point".
"It's nothing to do with religion - it's commemorating the end of World War One and he's ruining it," she said.
The music is based on Shirley Collins' version of the folksong Our Captain Cried, All Hands
Spill describes it as a commemorative piece to mark the centenary of the end of World War One
It has been produced in conjunction with 14-18 NOW, the WW1 centenary art commissioning body which was behind the 900,000 ceramic poppies at the Tower of London
The music changes with each performance, using independent sounds from eight banks of speakers
A three-minute version has been played every day since 25 October at 11:00 and an 11-minute version, complete with speakers mounted on a helicopter, is broadcast at sunset
It has been created by Melbourne-based artists Byron J Scullin and Supple Fox who based it on similar sonic artworks they produced for Hobart's Dark Mofo Festival and the Perth Festival in Australia
Mark Peck posted on Facebook: "Is there anything that can be done about the idiot with the megaphone who's been doing his best to ruin it the last few days?"
In response, Mr Pacitti wrote he had been "trying to have a dialogue with him".
"We are trying to get him to understand the memorial nature of it."
During a lunchtime talk about the piece, Mr Pacitti said attempts had been made to contact the protester, "but there's no reasoning with this man".
Suffolk Police said it been made aware of the protester, but he was not committing any offence.
The protester, Paul Dawson, called it an "evil-sounding cacophony".
"That noise was a disgrace and a dishonour to be associated with our fallen soldiers," he said.
Related Internet Links
The BBC is not responsible for the content of external sites.