Masta Ace and People Just Do Nothing stars share recipes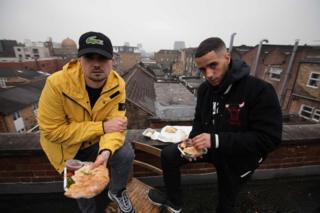 Rappers and TV stars have shared favourite recipes including lasagne and vegan slaw for a new cookbook.
Grindah and Decoy from BBC mockumentary People Just Do Nothing and US artist Masta Ace are among those who have contributed to the Big Rap Cookbook.
The collection of original recipes was the idea of Ipswich rapper Booda French and his friend Sam Hemingway.
Mr Hemingway said: "Food and rap is a pairing as logical as bacon and eggs."
The book grew out of the friends' increasing obsession with culinary references in hip hop.
"Food lyrics have been a staple ingredient in hip hop since Rakim proclaimed fish to be his favourite dish," Mr Hemingway said.
They used social media to reach out to their wishlist of rappers, producers and DJs, collating the recipes until eventually they had enough for a self-published book.
Allan Mustafa and Danny Rankin, aka Grindah and Decoy from Kurupt FM, have shared their recipe "My Percy Lasagne".
Mr French said they were "chuffed" their cookbook had been given so much backing.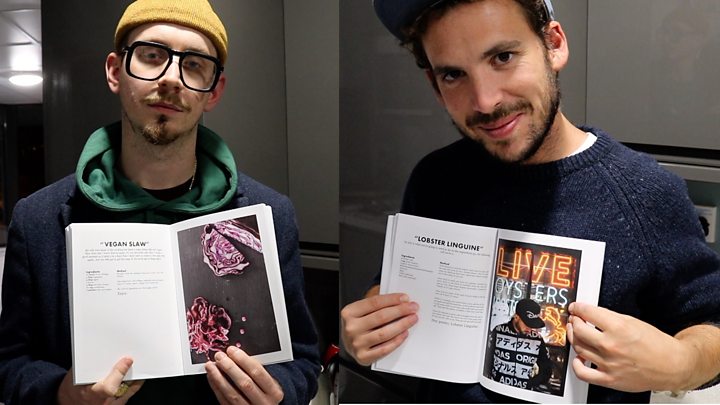 "Masta Ace, quoted as Eminem's biggest influence; Doppelgangaz, who just rap about food; Jam Baxter… We've got some really big names."
The pair, now in their early 30s, have been friends since they were children.
"When we were younger I'd welcome Booda to my family home for dinners, eventually broadening his diet from 'anything on toast' to bacon and egg bagels, juicy homemade burgers and proper roast dinners," said Mr Hemingway.
Music and food
Other rapper cookbooks include Cookin' with Coolio, and Snoop Dogg's From Cook to Crook
Pho Shizzle and Toastface Grillah are just two of the pop-up hip hop restaurants in recent years
Jay-Z, Kanye West and Diddy have all opened their own restaurants
He said speaking to the artists in the UK and in New York confirmed their belief that food and hip hop were intrinsically linked.
"It's interesting to get the background of the artist through their experience with food," he said. "They get used to being asked the same questions like 'who's your favourite producer, who's your top five MCs', but with food they seem to open up a lot."