'Gouges' on A14 at Stowmarket lead police to crashed driver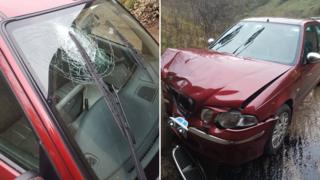 Police followed "gouges in the road" to a car crashed by a driver who they said was three times over the drink-drive limit.
Suffolk Roads Police team tweeted that the car was spotted doing 60mph on the A14 near Stowmarket, despite one of its tyres being blown out,
They said "after following the gouges in the road, it was located crashed".
The car was left with a buckled bonnet and cracked windscreen. The driver was arrested at the scene.