Women march in Ipswich against night harassment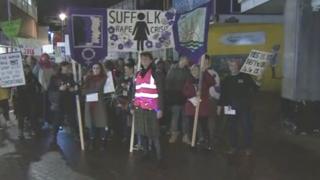 Hundreds of people have marched through a town centre during a late night Christmas shopping event to call for an end to violence against women.
The march in Ipswich on Thursday was held by local charities and university students.
The aim is to encourage pubs, bars and clubs to sign up to an agreement to keep women safe in their venues.
Ipswich Borough Council supported the march and said it wants to help set up a voluntary scheme to protect women.
March organiser Emma Talbot founded a women only running club called I Can Run because many did not feel safe alone at night.
"I organised some free runs because there's safety in numbers.
"We are marching because it raises awareness among people who may not be looking at social media."
The march was also supported by Amy Roch, director of Suffolk Rape Crisis, who said it coincided with the start of a national 16-day campaign against gender-based violence called Reclaim the Night.
She said: "We're calling on Ipswich Borough Council to establish a charter that pubs, clubs and establishments can sign and say their staff are trained and prepared to keep women safe in their premises."
Signs are already put up in women's toilets telling them to use "#Ask Angela" as a code at the bar to indicate they are uncomfortable with a situation they find themselves in.
Bar staff in many venues, such as Isaac's on the Quay in Ipswich, are trained to deal with this.
Events manager Caroline Holloway said: "Many venues hold parties where women go to enjoy a social night out.
"We want them to feel safe and to be more free to have a good time."