Greater Anglia scraps charges over lost money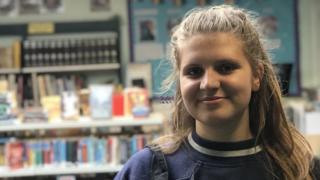 A rail firm which took 10% of the cash in a student's purse after she lost it has scrapped a policy to take money from people's belongings.
Florence Lewis, 18, told of her shock when she found £1.50 had been taken as a "storage fee" by Greater Anglia staff after she mislaid her purse on a train.
Following "customer feedback", the firm said it would not "apply charges to any cash found in wallets or purses".
Miss Lewis welcomed the decision as "brilliant".
"I have achieved what I wanted," she said.
"I did not have problem with the storage fee, but rather the way it was taken."
In October, the student was handed back £13.50 from the £15 in her purse when she went to collect it a week after losing it on a train from Ipswich to Lowestoft.
She said while she knew there were storage charges for lost property, she did not know cash would be taken from her purse.
'Charges removed'
At the time, the firm said its storage fee "will either be a minimum of £2.00 dependent of the item or 10% of what is in the purse or wallet".
Lynsey Flack, Greater Anglia's head of customer service, said: "We have removed any charges linked to found cash, which were previously in place, so customers will get the full value back.
"We're grateful for the feedback... and pleased to make these changes to our policy."
The firm said lost property charges would still be made for other items not collected within 24 hours, in line with the Association of Train Operating Companies (ATOC) standards.
Stray items are removed from stations after 24 hours, with lost property charges for storage and retrieval ranging from £2 to £20.
Earlier this year, Arriva Trains West made a U-turn on its policy to take 10% cash from customer's belongings after a backlash.