Sutton Hoo: Anglo-Saxon king's ship sculpture created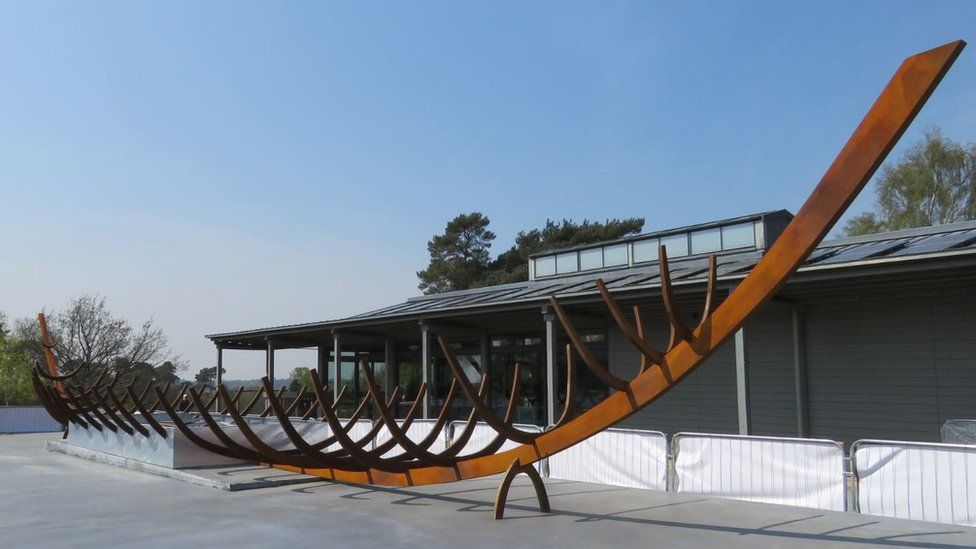 A sculpture of an Anglo-Saxon ship buried in the Suffolk countryside has gone on show for the first time.
The remains of the original ship, thought to be the final resting place of the 7th-Century King Raedwald, were found at Sutton Hoo in Suffolk in 1939.
The National Trust said the ghostly representation was the "wow factor".
The specially-commissioned sculpture matches the size of the original ship and is on show in the courtyard of the Anglo-Saxon attraction, which has opened for the new year.
When it is fully complete, the sculpture will have a slab in the centre representing the king's burial chamber, with etchings marking where treasures in the chamber were found.
The remains of the royal burial ship were first uncovered during a dig in 1939 when a single rivet was found.
During excavation "the ghostly skeleton of the ship was uncovered", the National Trust, which runs Sutton Hoo, said.
The trust's project manager, Mike Hopwood, said the new rusted steel ship sculpture brought the "wow factor" to the site.
"To be met with a full-size ghostly representation of the ship found here will allow our visitors to begin to digest just how remarkable this story is," he added.
The BBC is not responsible for the content of external sites.
The discovery was made in 1939 when landowner Edith Pretty asked archaeologist Basil Brown to investigate the largest of several mounds on her property
Among the many finds were the buried boat which contained the remains of a warrior's helmet, which is kept in the British Museum
It is thought the ship was hauled to the site from the nearby River Deben
Related Internet Links
The BBC is not responsible for the content of external sites.