Man admits damaging cars with rocks on Norfolk-Suffolk border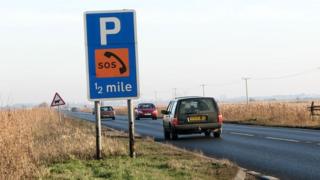 A man has admitted causing danger to other road users after rocks were thrown at vehicles driving on the Norfolk-Suffolk border.
Appearing before Norwich Magistrates' Court, Aaron Hurley, 25, admitted three counts of causing a danger to road users and denied a fourth.
Hurley, of Langley, Norfolk, also admitted three counts of criminal damage and denied a fourth count.
The attacks happened between May and June 2019.
They took place on the A140 at Pulham Market, the A47 Acle Straight in Great Yarmouth and the A143 in Stockton.
Hurley, of Hardley Road, denied the charges relating to the A143 in Thorpe Abbotts on 8 June when a Triumph Spitfire was damaged.
Hurley, who was granted bail, is due before Norwich Crown Court on 17 July.