Lowestoft terrorism arrest: Man held after grenades find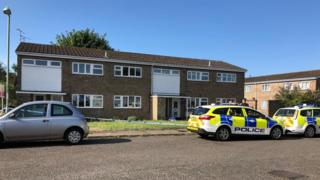 A man has been arrested on suspicion of a terrorism offence after two military grenades and "unidentified chemicals" were found at a flat, police said.
Sixty homes were evacuated after Suffolk Police made the discovery at Normanshurst Close, Lowestoft, on Sunday.
The Metropolitan Police Counter Terrorism Command has been brought in to take over the investigation.
It said "there was nothing to suggest an ongoing threat to the public".
The 59-year-old man has been detained under Section 41 of the Terrorism Act, 2000, police said.
He was initially arrested by Suffolk Police on suspicion of possession of a firearm.
Police said the grenades were inert and it was understood the weapon was an imitation firearm.
Officers were executing a warrant just before 13:00 BST when the items were found.
A 100m cordon was set up while an Army bomb disposal team made the site safe.
A number of people were evacuated to the nearby Waterlane Leisure Centre.
The outer cordon was later lifted and only the property where the items were found, as well as three other neighbouring properties, were inaccessible to the public.
Marion Rabbatts, 70, said it was "a bit scary" to hear grenades were found over the street from where she lives.
Michael Grove, 71, who lives with his wife, said they were in the middle of cooking their evening meal when they were evacuated.
"We just had to grab everything and go. The chicken had come out of the oven and went with us," he said.
Mr Grove, who has lived on the estate since it was built, said the arrested man had lived there for a number of years.
"It is concerning because you don't expect it," he said.
William Coleman, 91, who lives above the arrested man's flat, went to stay with his daughter Bridget Porter.
Ms Porter, 60, said her father was "very stressed out over the whole affair".