North Sea US jet crash: Pilot named as Kenneth Allen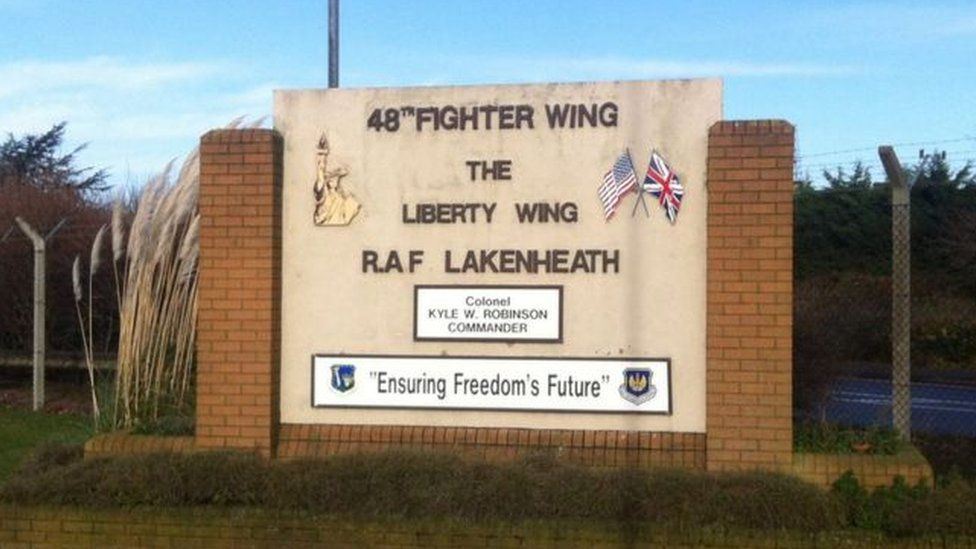 The pilot of a US Air Force fighter jet which crashed into the North Sea has been named as 1st Lt Kenneth Allen.
Lt Allen, from the 48th Fighter Wing at RAF Lakenheath in Suffolk, crashed off the East Yorkshire coast on Monday while on a training mission.
He had been stationed at the base since February and is survived by his wife and parents, the US Air Force said.
In a tribute on Facebook, Lt Allen's wife Hannah said he was "perfect" and her "absolute best friend".
Mrs Allen said she felt "beyond blessed to have loved him" but felt "shattered" by her loss.
Col Will Marshall said the whole unit was "deeply saddened" by Lt Allen's death.
"The tremendous outpouring of love and support from our communities has been a ray of light in this time of darkness," the commander of 48th Fighter Wing added.
Mrs Allen remains in the United States, where the couple recently married, and is being supported by family and the US Air Force, Col Marshall said.
Lt Allen, known as Kage, was the assistant chief of weapons and tactics for the 493rd Fighter Squadron.
Col Marshall told the BBC that a formal investigation into the cause of the crash had begun but it would "take some amount of time" before the results would be known.
Radio data, the wreckage and information from other pilots would form the basis of the investigation, he said.
Lt Allen, who had just completed upgraded training for the F-15C Eagle, was on a training exercise with 11 other aircraft when his plane went into the sea 74 nautical miles (85 miles) off the East Yorkshire coast.
The Coastguard and RNLI lifeboat crews from Bridlington and Scarborough were among those who took part in the search after the plane was reported missing at about 09:30 BST.
Col Marshall thanked HM Coastguard and the RNLI teams who helped coordinate the search and recovery of Lt Allen "despite bad weather".
The F-15C, a single-seater air defence fighter, is a model of jet that has been used by the US Air Force since 1979.
RAF Lakenheath is the largest US Air Force-operated base in England and home to its only F-15 fighter wing in Europe.
More than 4,000 US service men and women are stationed there.
Related Internet Links
The BBC is not responsible for the content of external sites.