Social distancing 'aggression' on Walberswick crabbing bridge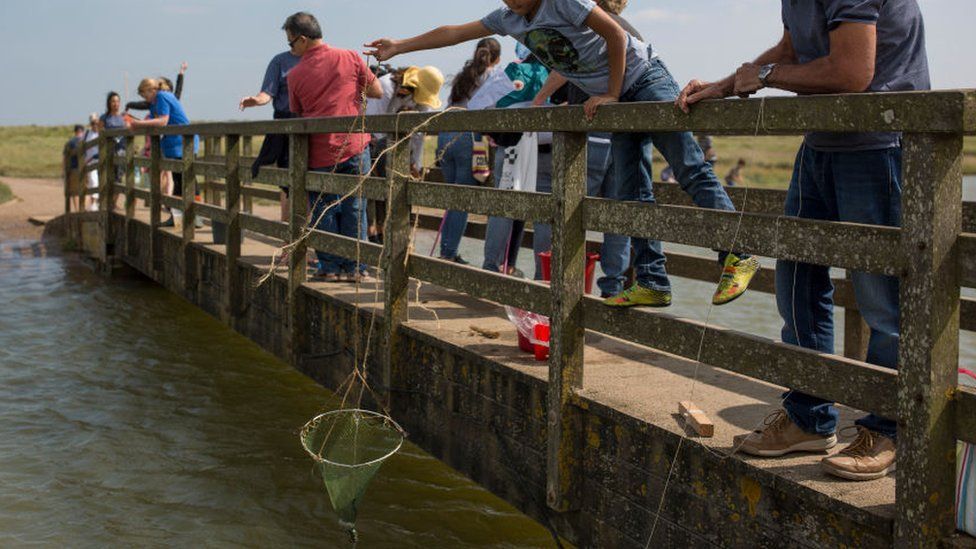 Visitors to the former home of the British Crabbing Championships have turned aggressive when challenged about social distancing, it has been claimed.
Kissing Bridge in Walberswick, Suffolk, is a popular spot for catching crabs but is only about 2ft (0.6m) wide.
Luke Jeans, who lives nearby, said he had faced "aggression and yelling" when asking people not to block the bridge, while another man said he was sworn at.
Suffolk Police said it had not been made aware of the incidents.
Mr Jeans said he had asked people to stop crabbing there on a number of occasions since social distancing measures began and that "nine out of 10 were very good and apologised".
"The first time I got aggression on there, one gentleman refused to leave and stood in the middle of the bridge with his arms folded," he said.
"Another time it was aggression and yelling. The people who are blocking the bridge are ruining it for everybody."
He claimed parking attendants had also faced resistance when asking people not to gather there.
A Suffolk Police spokesman said an officer had visited the area on Tuesday afternoon and reported no issues.
He added that police do not have powers to enforce social distancing and were only able to break-up gatherings of more than 30 people.
Josie Bassinette, from Walberswick Car Parks, said the incidents were "not at all typical of the overall situation".
She said: "Walberswick, like all coastal communities in the country, has had to face unprecedented challenges to deal with the extraordinarily large number of visitors and residents.
"The vast majority of these visitors have come to enjoy this beautiful place and have done their best to enjoy their summer safely."
The British Crabbing Championships were held in Walberswick for 30 years from 1980 until 2010, before being cancelled when it became too popular.
One woman said: "Monday it seemed everyone had forgotten to distance," while another wrote: "We have been a few times over the summer, you do get a few people forgetting to keep distance."
Another person said the rules should be changed: "I think during this time the bridge should have been closed to crabbers - used for walking over only."
Related Internet Links
The BBC is not responsible for the content of external sites.