Sizewell: Nuclear campaigners' bid to save woodland rejected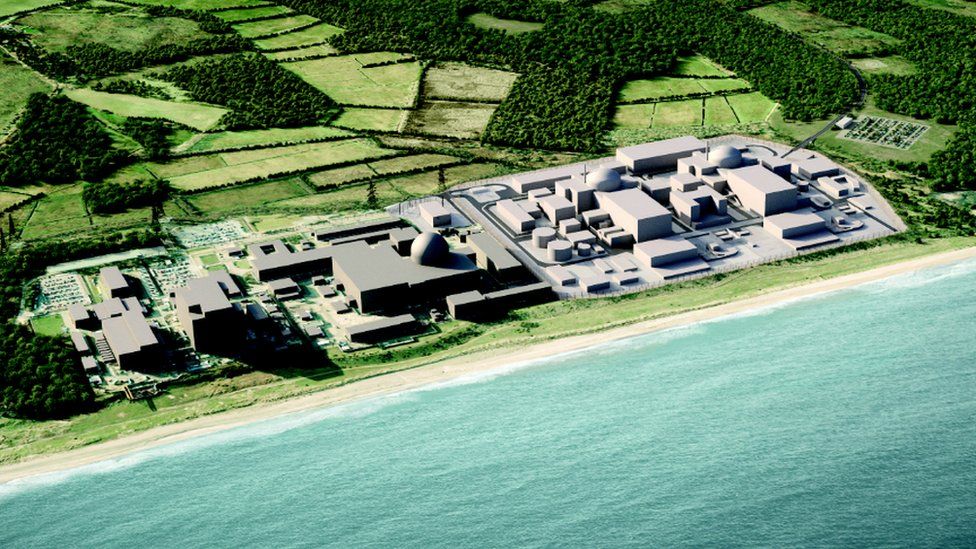 Campaigners against a new nuclear power station say they are "resolute" after their bid to protect woodland was thrown out by the High Court.
EDF Energy, which wants to build two new reactors next to Sizewell B in Suffolk, was given approval in 2019 to fell Coronation Wood on the site.
Mr Justice Holgate rejected its application.
He said he "did not accept East Suffolk Council acted irrationally" by approving EDF Energy's preliminary plans for the woodland in September 2019, when Sizewell C was yet to go before the Planning Inspectorate.
The firm wanted to demolish old buildings on what could become the Sizewell C site, so as not to have an impact on any future "phasing of construction".
The 1.6 hectare (four acre) wood, owned by EDF, would be cut down to make way for a staff car park and visitor centre.
'Very careful consideration'
Tasc challenged the council's "premature" decision, calling the 100-year-old wood a "much-loved local amenity" providing a home to badgers, bats and birds.
It claimed proper investigations into the potential scale of environmental damage had not been carried out, and that the council had "ridden roughshod" over the opinions of local people.
In a 16-page judgement, Mr Justice Holgate said the loss of the wood would have a moderate adverse effect, but taking into account the species and habitat present, the loss was judged to be "minor" and "not significant".
David Ritchie, the council's cabinet member for planning, said: "This vindicates the rigour and very careful consideration the strategic planning committee gave to the proposal, following sound and detailed advice from our officers."
Campaigner Joan Girling, of Leiston, who brought the case on Tasc's behalf, said the 300-strong group would consider its options with lawyers.
"There is no certainty that Sizewell C will be given consent or built," she said.
"We remain totally resolute in retaining our stance against EDF's destructive plans for Sizewell and the wider Suffolk environment."
EDF Energy said the judge acknowledged the majority of trees in Coronation Wood had limited life expectancy and their loss would be "balanced" by EDF's planting of 2,500 trees suited to the coastal environment.
Related Internet Links
The BBC is not responsible for the content of external sites.