Bessie Poulson, 105, from Suffolk, 'flooded' with birthday cards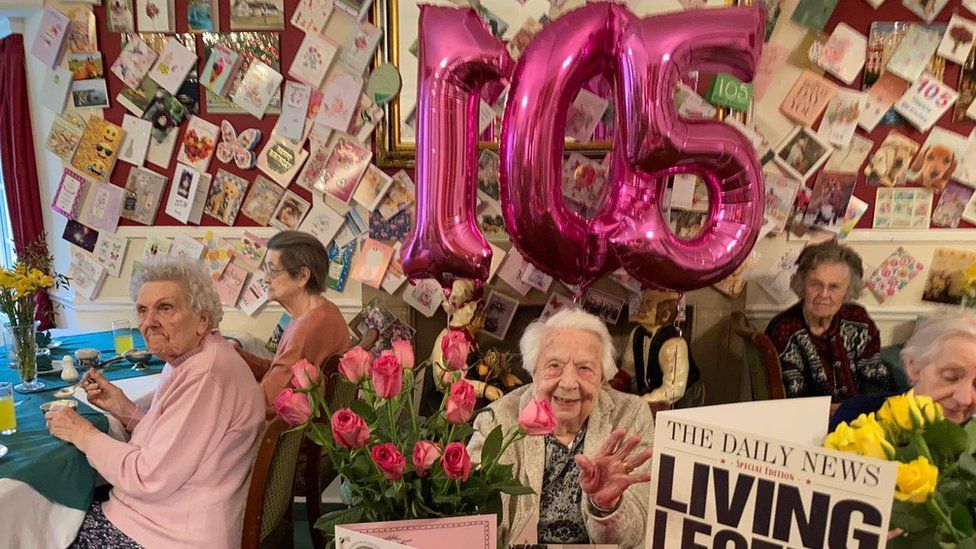 A woman who turned 105 has received more than 200 birthday cards following an appeal by her care home.
Bessie Poulson who lives at Garrett House care home in Aldeburgh, Suffolk, was unable to celebrate with her family due to the pandemic.
It meant she had to forego a visit from her six great-grandchildren and the mayor.
Assistant manager, Karen Squirrell put the call out for cards to "try and make a fuss of her another way".
"There can't be many people who are 105 now," she said.
She said Mrs Poulson, who also received a card from the Queen, was "overwhelmed by the affection, but really happy". BBC Radio Suffolk was thanked for spreading word of the appeal.
Ms Squirrell described Mrs Poulson as "a real character who loves walking around the home".
"She has a great presence and salutes all the male residents as she walks past. When Bessie's coming through, everybody moves for her," Ms Squirrell said.
Mrs Poulson who was married to one of Winston Churchill's bodyguards, celebrated her birthday with a special lunch on Tuesday with three other residents.