Ed Sheeran painting raises £51,000 for cancer charity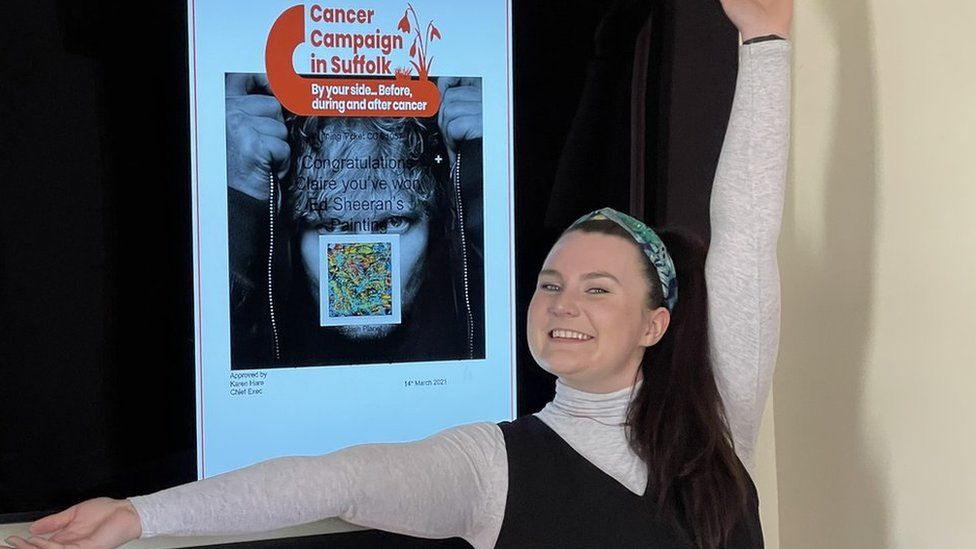 An Ed Sheeran painting has raised more than £51,000 for a cancer charity.
The 30-year-old's colourful abstract artwork, called Splash Planet, was won by Claire Faynor from Vermont in the US, who paid £20 for a raffle ticket.
Ms Faynor said she "genuinely didn't believe it" when she found out she won the Cancer Campaign in Suffolk (CCiS) fundraiser.
The 22-year-old said she may create a room dedicated to the singer in her house.
"I was trying to push that through with my roommates in the first place, and now I have even more reason," she said.
Sheeran said the painting was "one of the big splashy ones" seen on the cover of his single, Afterglow.
The singer previously donated another painting, Dab 2, to a charity auction, where it sold for £40,000.
The raffle for CCiS was launched last month and the winner was drawn on Monday.
In a video message recorded before the raffle, Sheeran said: "The painting is one of mine, one of the big splashy ones that you saw in the Afterglow cover."
Sheeran painted Splash Planet and Dab 2 following his Divide world tour, which ended with a series of homecoming gigs in Ipswich in 2019.
CCiS chief executive Karen Hare said: "We have been overwhelmed and delighted by the support we have been given, both here and abroad, and it's been absolutely fantastic to know that we have raised over £51,000 through ticket sales and donations."