Haverhill: Shop windows filled with art to give town 'a boost'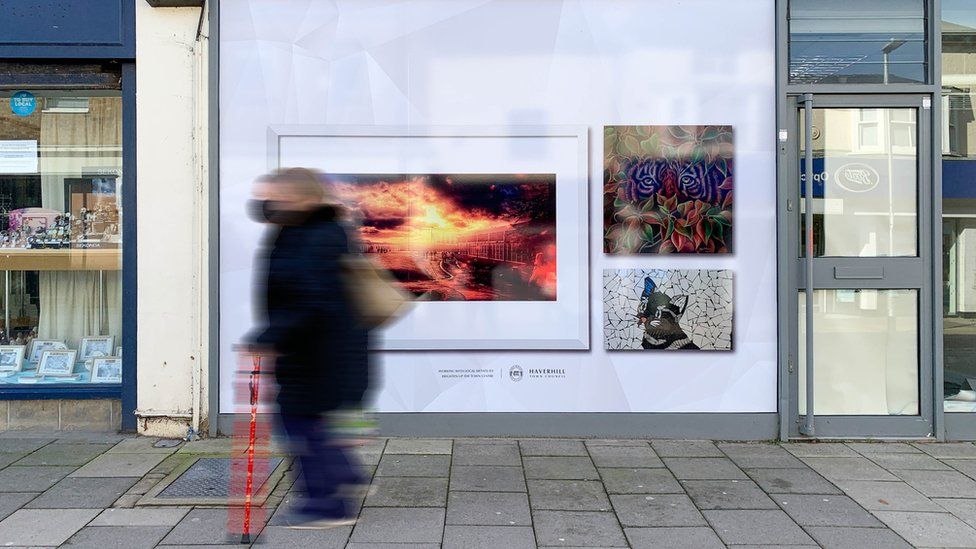 Residents have created 70 works of art to hang in empty shop windows in a town centre, giving it "a bit of a boost" in lockdown.
Haverhill Town Council asked locals to send in their art to make the Suffolk town a "a nicer and more pleasant place to live in, work and visit".
People aged between eight and 97 years old responded to the call.
Organiser Sara Marsh said local people feel the art "brightens their day".
The council said the pandemic had "hit businesses in Haverhill town centre".
"The sight of forlorn empty shop units can create a 'glass half empty feeling'," a spokesperson said.
After gaining permission from landlords, the authority appealed for local people to send in their work and received a "tremendous" response.
Ms Marsh, Haverhill Art Centre's customer experience manager, said the team "got far more than we anticipated".
Marie Karim was one resident who submitted her artwork for the project.
The amateur artist, who described herself as a "young pensioner", said she felt "proud" to see her work on display in the town.
"There are so many wonderful pieces of artwork up there, some are really professional, so it gives you a bit of a boost and makes you feel upbeat that somebody thinks your work is worthy," she said.
Ms Karim said the project showcased the creativity in the area.
"Our town is underestimated," she said.
"People don't realise all the wonderful, cultural things we do here. People need to be more positive about the town."