Antony Gormley objects to Aldeburgh beach sculptures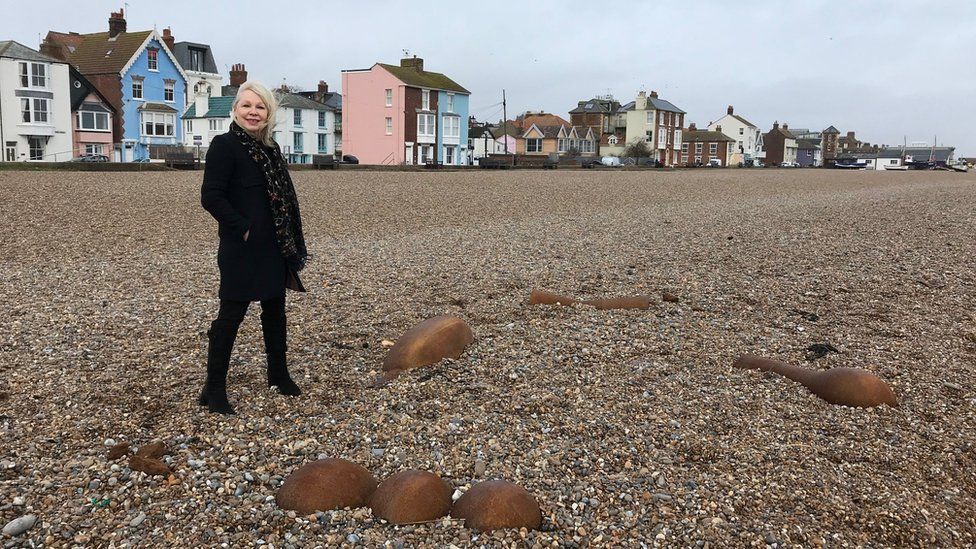 Artist Sir Antony Gormley has formally objected to a set of his sculptures being displayed on a beach, saying their positioning is a "misrepresentation" of his work.
The four iron bollards were placed on the beach at Aldeburgh, in Suffolk, by owner Caroline Wiseman, in August.
She retrospectively applied for planning permission last month, to which Sir Antony has objected.
Ms Wiseman said if the plans were rejected she would have to sell them.
Publicity about the planning application last month led to mixed reviews about the artwork on social media.
It was brought to the attention of their creator, Angel of the North sculptor Sir Antony, whose representative lodged an objection with the council, as first reported in the Telegraph.
The four artworks - titled Oval, Peg, Penis and Snowman - were bought from an official Gormley exhibition in 2001 by art collector Ms Wiseman.
Last year, she moved them to the beach in front of her gallery.
Her retrospective application was submitted as she said she had not realised permission might be needed to place them there.
A letter from Sir Antony's representative stated the artist objected on the grounds that the bollards were "functional pieces of urban design" and were meant to "stand upright".
"The change of orientation and configuration of the bollards completely compromises their purpose as a piece of street furniture and the artist's original intention behind the work," the letter said.
Ms Wiseman said she had tried to stand the 220lb (100kg) pieces upright, "but the pebbles wouldn't support them".
"We laid them down, instead, and people have said how beautiful they are," she added.
Sir Antony also objected to Ms Wiseman changing the name of the group to Quartet (Sleeping), 2001 - which Ms Wiseman said was done partly because they were displayed lying down.
She said: "When you buy a work of art you're able to display it how you want it - it's called an 'intervention' in the art world."
If permission to keep them on the beach was refused, she said she would have to auction them and thought they would sell in the region of £5,000 a piece.
"But they are there for the enjoyment of all the people of Aldeburgh and Suffolk, and it will be a very sad thing if they have to go," she said.
East Suffolk Council's planning committee is due to consider the application at a later date.
Related Internet Links
The BBC is not responsible for the content of external sites.