SnOasis ski centre plan revived as 'Valley Ridge'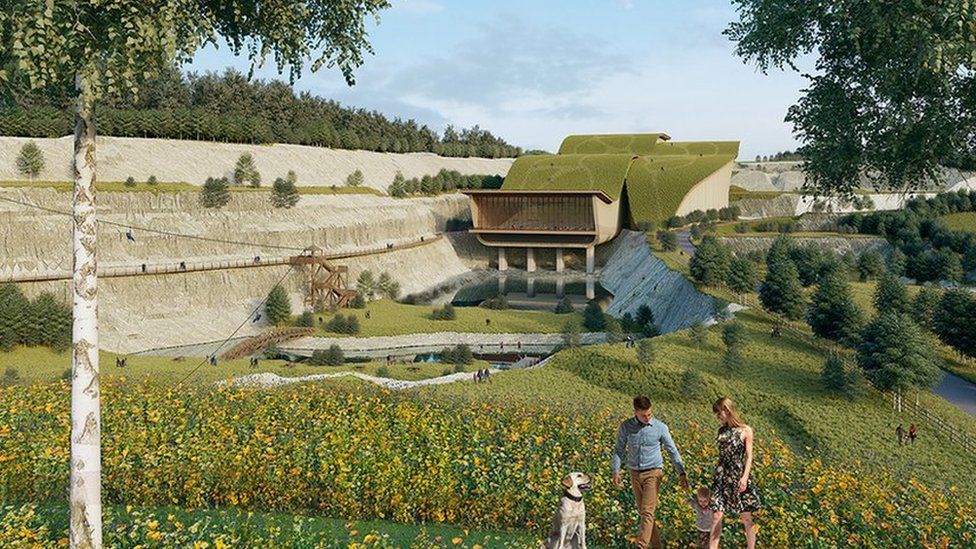 People living near a stalled indoor ski centre project are being asked for feedback on new plans for an alternative £500m "staycation" resort.
Developers said Valley Ridge in Great Blakenham, Suffolk, was a "leisure-focused family-friendly" project replacing the SnOasis proposal, which was first put forward 20 years ago.
The new scheme would still include a ski slope with artificial snow.
The developer's public consultation is due to begin after Easter.
Local parishes backing on to the development have their first meeting with the developers on Thursday evening.
"On face value... this change in direction may well be closer to what would fit better with the local area, Suffolk as a whole, and of course more importantly, local employment," said Steve Plume, Great Blakenham parish chairman.
He added issues such as lighting, water drainage, and traffic would still need to be closely scrutinised.
SnOasis originally received outline planning permission from Mid Suffolk District Council in 2008, but it was never built and planning permission lapsed.
Valley Ridge Holdings said residents were invited to share their views on the latest scheme at consultation events after Easter, before a new planning application was submitted in the summer.
The new facility would "turn this from primarily a day-resort centre to a staycation venue, with most guests... staying for at least a few days".
The company's Simon Padgett said: "The new project team are determined to deliver our new vision of a family-focused resort offering great entertainment all year round."
A casino, gaming room and nightclub that were in previous plans have been scrapped and there is now less focus on retail.
Revised plans include spas, a wellness centre, water park, wave pool with lazy river and outdoor activities such as zip wires, archery and adventure golf.
Dr Peter Funnell, chair of Suffolk Chamber of Commerce, said the proposals looked "very exciting".
"This family-friendly development has the potential to create both business opportunities for local companies during the construction phase and once built, jobs for local people," he said.
Valley Farm said it hoped the resort would be open by 2024.
Accommodation would be in 450-500 self-catering lodges and 450 rooms in a hotel.
The company said it hoped to create 2,000 jobs during construction and about 1,800 once open.
Thousands of homes near the site would be sent leaflets with information on the plans and how to register for consultation events.
Related Internet Links
The BBC is not responsible for the content of external sites.