A14 Orwell Bridge: New speed limit signs installed at Ipswich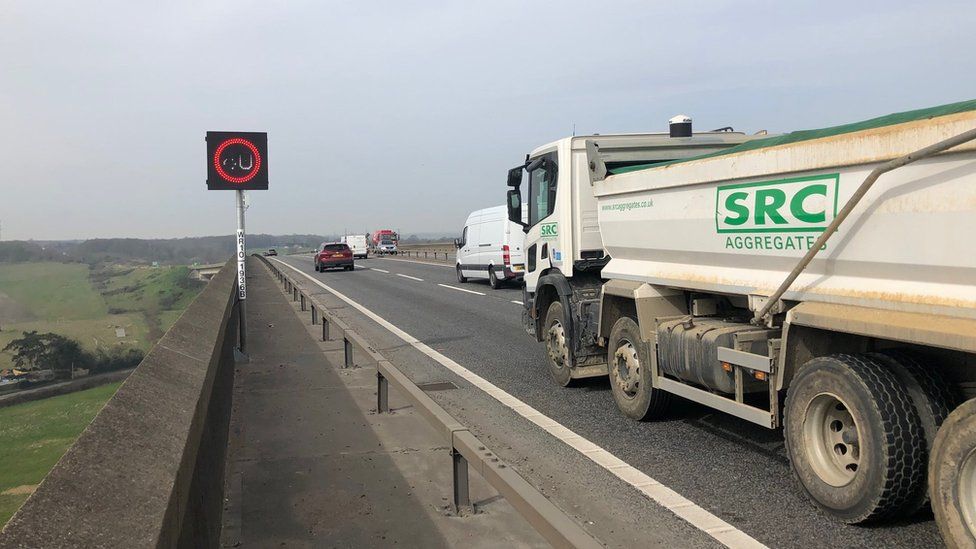 Work to install electronic speed limit control signage on a major road bridge is complete - allowing it to stay open in high winds more often.
The A14 Orwell Bridge at Ipswich is prone to closure on safety grounds if winds exceed 50mph (80km/h).
A Highways England spokesman said drivers can expect "more reliable journeys" and "less congestion".
The bridge carries 60,000 vehicles a day and is an important route for lorries using the UK's biggest container port at Felixstowe.
The dual carriageway has been closed more than 20 times since 2013, which usually results in gridlock in Ipswich as traffic is diverted through the town.
The improvements followed a year-long study by City University, London, which concluded that bridge should be closed in winds of 60mph (90km/h), but that it could remain open in winds of 45-60mph (70-95km/h) if traffic moved more slowly.
The vehicle speed limit will be reduced from 60mph to 40mph (65km/h) in such winds.
Martin Fellows, Highways England regional director, said: "The bridge will be able to remain open more often, meaning more reliable journeys for drivers, local residents, businesses and hauliers, and less congestion in town."
The bridge, which stands 43m (141ft) at its highest point, opened in 1982.
Suffolk Police said the new measures would bring "tangible improvements".
Ipswich MP, Tom Hunt, said the work was "a big task .. but a necessary one".
"I know that some have been frustrated that a solution wasn't implemented sooner," he said.
Related Internet Links
The BBC is not responsible for the content of external sites.