'Unseaworthy' Noah's Ark replica detained at Ipswich Waterfront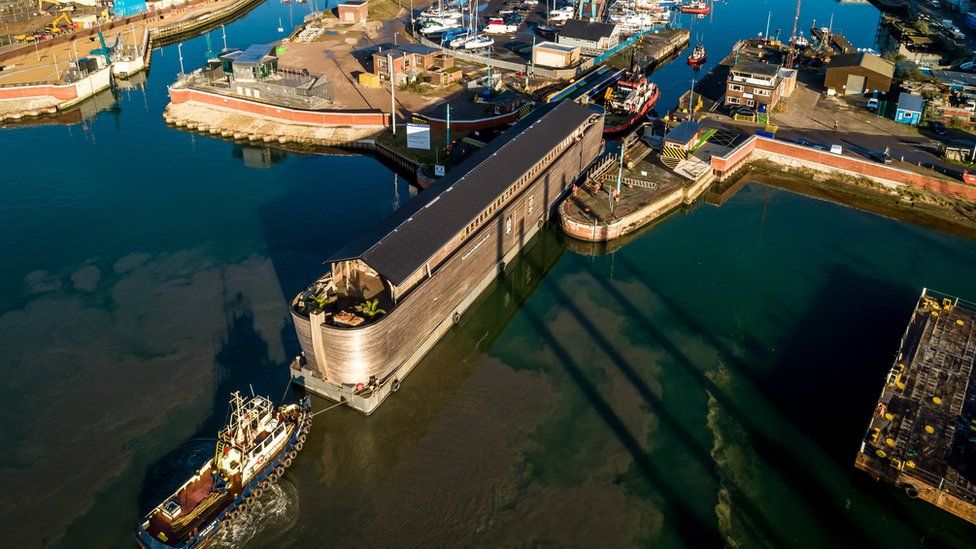 A giant replica of Noah's Ark has been deemed unseaworthy and detained where it is docked.
In response to a Freedom of Information request made by the East Anglian Daily Times, the Maritime and Coastguard Agency (MCA) said the vessel was not safe to leave due to "deficiencies".
The BBC has approached the ship's owner for comment.
The ship was bought for €3m (£2.6m) and its owner, Dutch TV and theatre producer Aad Peters, previously said he wanted to create a "talking point" for people from all backgrounds.
It houses wooden sculptures depicting Bible stories, including Adam and Eve, Cain and Abel as well as the nativity scene.
A spokesman for the MCA said: "The vessel, Noah's Ark will remain detained until all the deficiencies have been put right and a Maritime and Coastguard Agency surveyor is invited back by the owners to check that they have been corrected."
He said he was unable to disclose specific details of the deficiencies.
Mr Peters bought the ark in 2010 and a team of 50 expert craftsmen took five months to create the museum, thought to be about half the size of the ark described in the Bible.
Related Internet Links
The BBC is not responsible for the content of external sites.